Load Bearing Vest
The MOLLE Load Bearing Vest (LBV) is a modular vest that allows commanders to tailor the loads to meet mission needs without unnecessary extra pouches and gear. The vest is designed to reduce heat build up on the back with minimum area of coverage with the H-Harness design. The wide shoulder straps of the vest help distribute the load without the need for excessive padding that can hinder mobility and sighting a weapon.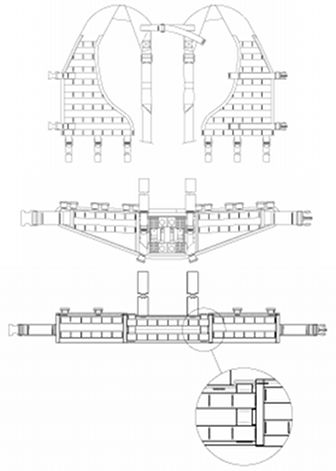 The LBV is worn with a large padded waist belt (molded waist belt).
The belt comes in three sizes: small, medium, and large. The belt is equipped with a removable insert that has a female connector into which the frame joins. The female connection socket can be adjusted up or down to size for torso lengths.
There is a secondary three inch wide belt (utility belt) that comes with every MOLLE system. It is intended for those soldiers and marines who prefer to have the large padded waist belt permanently attached to the frame, and a smaller belt for the LBV. To use this belt, remove the large padded belt from the LBV. Connect the large belt to the frame, using the probe and socket. There are two short pieces of one inch webbing with a friction buckle which secure the belt to the frame. The three-inch wide LBV belt can then be attached to the LBV. This belt is adjustable for size by pulling the stiffened vertical webbing out of the horizontal webbing channels, locating the belt wings to the desired location, and reinserting the stiffened webbing in the appropriate location.
National Stock Number
Load Bearing Vest:

8465-01-465-2056

Molded Waist Belt

Small (28-35):

8465-01-465-2109

Medium (35-40):

8465-01-465-2110

Large (40-):

8465-01-465-2111

Utility Belt:

8465-01-465-2082
Improvement