Modular Tactical Vest
The Modular Tactical Vest (MTV) was developed due to combat operations highlighting the need for operational enhancements to the Outer Tactical Vest (OTV). The OTV, developed in the late 1990's, was not designed to carry heavy loads such as ammo pouches, radios, water carriers and accessories, so many troops either attached cumbersome pockets to the vest or wore an additional load-carrying layer.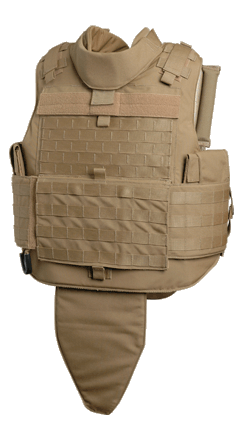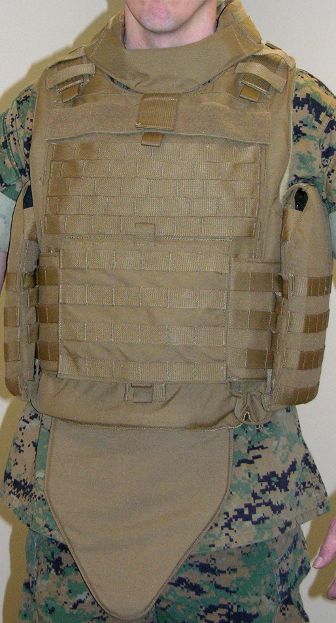 Features
The MTV uses the same soft armor and hard armor solutions used in the OTV.
MTV enhancements over the OTV include:
improved closures
a quick release for emergency egress and casualty assistance
side opening design for medical access
increased side torso, lower back and kidney area protection
integrated Side Small Arms Protective Insert (S-SAPI) carrier
pathways for communication wiring/cables
a rifle bolster to improve the stock weld
Component
front carrier with soft armor insert
rear carrier with soft armor insert and spine armor insert
internal side plate pockets for 6x8/7x8 S-SAPI plates with soft armor inserts
external X-Small ESAPI plate pockets for Marines with longer torsos
groin armor carrier with soft armor insert
collar/yoke assembly
throat armor assembly
cummerbund assembly

right cummerbund half
left cummerbund half
three hole adaptor
release cable
bungee cord, one wrap and barrel lock

two cummerbund stays
MEDEVAC strap for securing casualty in vest when cummerbund is missing
rifle bolster
Instruction
MTV Component Listing [pdf]
Commercial Manual (MTV) [pdf]
USMC MTV Assembly Guide [pdf]
http://www.marcorsyscom.usmc.mil/sites/pdmice/AddInfo/Armor/MTV/MTVTraining/MTVInstructionCard.pdf
Logistics
a complete set; TAMCN: C00592E

X-Small:

8470-01-547-5919

Small:

8470-01-547-5950

[pdf]
Medium:

8470-01-547-5938

Large:

8470-01-547-5949

X-Large:

8470-01-547-5954

XX-Large:

8470-01-552-3939

XXX-Large:

8470-01-552-9085

NSNs for individual components are listed in pages 11 through 13 of the Commercial Manual (MTV) above.
Acquisition
Solicitation: M67854-06-R-3044

Contract: M67854-06-C-3044

award date: 2006-09-25
Protective Products International, Sunrise, Fla.
a $33,647,022 firm-fixed-price contract for 60,000 Modular Tactical Vests (MTVs) with associated training

Solicitation: M67854-10-R-3023

Contract: M67854-10-D-3023

award date: 2010-05-07
Protective Products Enterprises, Sunrise, Fla.
a $10,549,990 firm fixed price, indefinite-delivery/indefinite-quantity contract for Modular Tactical Vest (MTV) Spare and Replacement Parts.
Improvement
References
MTV infopaper @PMICE [2008]
http://www.marcorsyscom.usmc.mil/sites/pmice/AMTV.asp
Marine Corps Concepts and Programs. [p. 209, 2007][p. 73, 2010]
https://www.fbo.gov/spg/DON/USMC/M67854/Awards/M67854-06-C-3044.html
http://www.defense.gov/contracts/contract.aspx?contractid=3349
https://www.fbo.gov/spg/DON/USMC/M67854/M6785410R3023/listing.html
http://www.defense.gov/contracts/contract.aspx?contractid=4276
The Modular Tactical Vest: A Case Study in Success and Failure. [pdf]
http://www.body-armor.com/mtv.php
https://www.marcorsyscom.usmc.mil/news/syscomnews.nsf/StoriesDisplayExt/E192C6DA4FF7039D852576A4005CDC3C?OpenDocument
http://www.washingtontimes.com/news/2009/jan/04/marines-altering-body-armor/
http://www.foxnews.com/story/0,2933,333154,00.html
http://www.captainsjournal.com/2008/02/29/body-armor-wars-in-the-marine-corps/
http://www.dcma.mil/communicator/spring08/2_features/DCMA_Comm_v08n01_pp31.pdf
http://www.marcorsyscom.marines.mil/Portals/105/PressRelease/2006/2007912-12591-MTV%20Release%2011-06.pdf
http://www.hqmc.marines.mil/News/NewsArticleDisplay/tabid/3488/Article/77410/systems-command-improves-marines-combat-effectiveness-with-new-modular-tactical.aspx
http://www.dau.mil/pubscats/pubscats/atl/2007_09_10/news_so97.pdf