Modular Sleep System
The Modular Sleep System (MSS or Modular Sleeping Bag System, MSBS) is designed to insulate the user in environments ranging from mild weather to extreme cold weather.
Component
The system consists of:
a compression stuff sack
a patrol sleeping bag

50 to 30°F when used alone
3 pounds

an intermediate cold weather (ICW) sleeping bag

30 to -10°F when used alone
4 pounds

a vapor permeable bivouac cover
The patrol and ICW bags are used separately, or together, by inserting the ICW bag within the patrol bag, attached by using snap fasteners, to form an extreme cold weather (ECW) sleeping bag system. The ECW bag configuration provides insulation to at least -30°F for a user dressed in polypropylene expedition weight undershirt and drawers and standard cushion sole socks, and to -50°F for a user wearing various layers of ECW clothing.
The stuff sack, when packed with sleeping bags, is capable of being compressed to one cubic foot and fits in the sleeping bag compartment of the large field pack with internal frame. Each bag, either independently or joined together, is compatible with the bivy cover.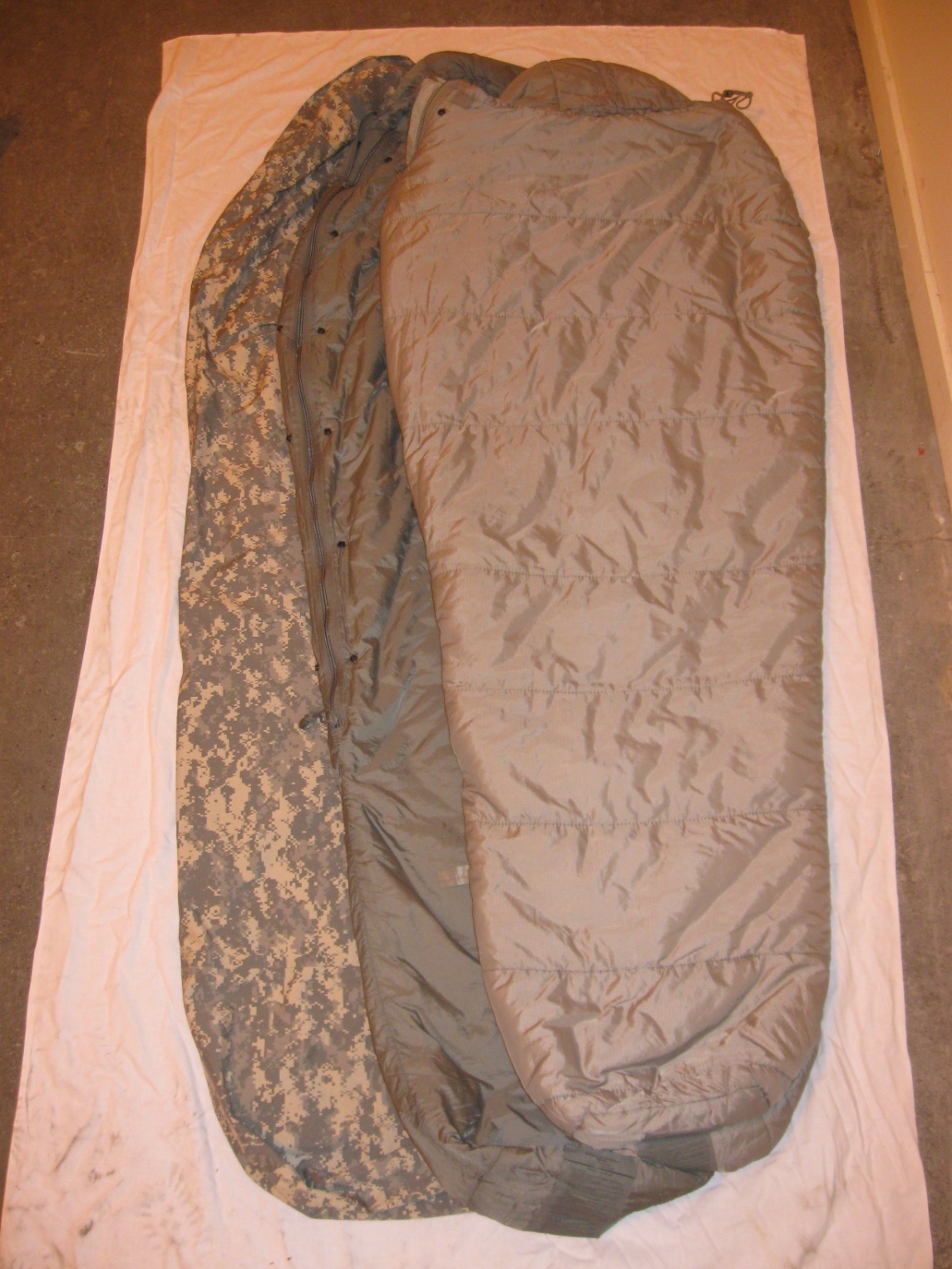 Specification
Improvement
National Stock Number
system:

8465-01-445-6274

(TAMCN: C34212F)

stuff sack, black 357:

8465-01-398-5428

patrol bag, camouflage green 483:

8465-01-398-0685

ICW bag, black 357:

8465-01-398-0687

bivy cover, woodland:

8465-01-416-8517

system without bivy cover:

8465-01-395-1154

system, X-Long:

patrol bag, camouflage green 483, X-Long:

8465-01-452-1688

ICW bag, black 357, X-Long:

8465-01-452-1690

bivy cover, woodland, X-Long:

8465-01-452-1695

system, UCP:

8465-01-547-2757

bivy cover, UCP:

8465-01-547-2644

patrol bag, foliage green:

8465-01-547-2706

ICW bag, urban grey:

8465-01-547-2694

stuff sack, foliage green, small:

8465-01-547-2656

stuff sack, foliage green, large:

8465-01-547-2670

system, UCP, X-Long:

8465-01-551-9876

bivy cover, UCP, X-Long:

8465-01-547-2355

patrol bag, foliage green, X-Long:

8465-01-547-2712

ICW bag, urban grey, X-Long:

8465-01-547-2697

stuff sack, foliage green, small:

8465-01-547-2656

stuff sack, foliage green, large:

8465-01-547-2670
Reference
http://www.tennierindustries.com/modular-sleep-system.html
http://www.tennierindustries.com/rfi-mss.html
http://usmilitary.about.com/library/milinfo/marinefacts/blmsb.htm