Improved Load Bearing Equipment
The Improved Load Bearing Equipment (ILBE) is a load carrying system designed to provide a durable and lightweight means for the deployed Marine to transport individual combat clothing and equipment, and replace MOLLE II.
Major proposed improvements over MOLLE include durability, comfort of wear, reduced system complexity, reduced system weight and sustainability, and greater integration with the Outer Tactical Vest.
Components
The ILBE system has two major components: the pack system and the Assault Load Carrier (ALC). The pack system is a modified commercial Arc'teryx Bora 95 pack.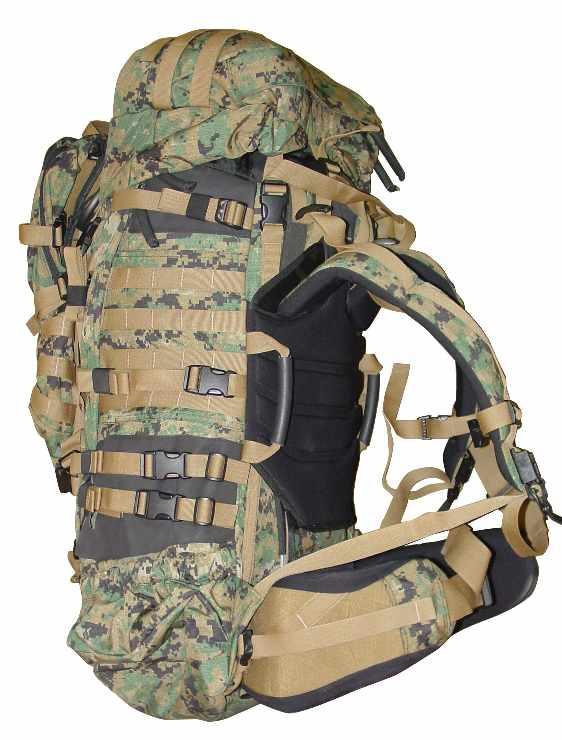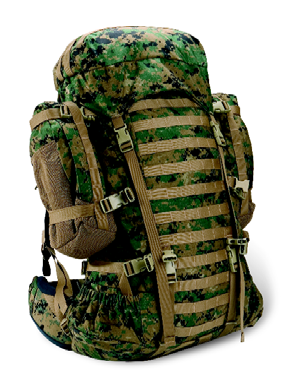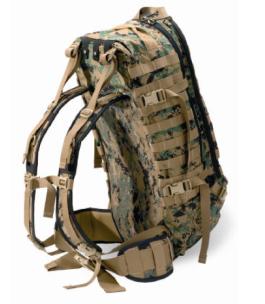 Standard ILBE Pack System

(replaced by USMC Pack):

Propper International Sales Part Number: F190186393
NSN:

8465-01-515-8615

[pdf]

4500 cu. in. main pack has two side pockets with associated compression straps for irregularly shaped gear such as 60mm or 81mm mortar rounds, skis, snowshoes, or Shoulder-launched Multipurpose Assault Weapons.

main pack:

F190486393

8465-01-515-8620

lid:

F190786393

8465-01-515-8643

shoulder straps

F190886393

8465-01-515-8647

hip belt, men's:

Small:

F190986393

8465-01-515-8658

Medium:

F193386393

8465-01-520-8270

Large:

F191086393

8465-01-515-8677

radio pouch

F190686393

8465-01-515-8636

assault pack

1500 cu. in.
F190586393

8465-01-515-8629

hydration system

100 oz.
F191786236

8465-01-531-1753

:

reservoir:

8465-01-515-8811

carrier:

8465-01-515-8813

bite valve:

8465-01-515-8816

Reconnaissance ILBE System

is a reconnaissance variant of the standard pack system designed to meet reconnaissance units mission requirements.

TAMCN: C53312E
NSN:

8465-01-534-3594

recon main pack

recon assault pack

2300 cu. in.

8465-01-532-7233

two

external pouches

hydration system

Corpsman Assault Pack: recon assault pack with removable medical inserts

Individual Water Purification System (IWPS)

Waterproofing Bag Inserts (WPI)

for main pack

3600 cu. in.

8465-01-559-5404

for assault pack

1500 cu. in.

8465-01-560-6727

Marine Corps Stuff (MACS) Sack

549 cu. in.

8465-01-542-7688
Acquisition
https://www.fbo.gov/spg/DON/USMC/M67854/PR-ILBE/listing.html
https://www.fbo.gov/spg/DLA/J3/DSCP-C/SP0100-05-R-0100/listing.html
https://www.fbo.gov/spg/DLA/J3/DSCP-C/SPM1C1-10-R-MA03/listing.html
References
Notes
↑ https://www.fbo.gov/spg/DON/USMC/Contracts_Office_CTQ8/M67854-03-R-3093/listing.html
↑ https://www.fbo.gov/spg/DON/USMC/Contracts_Office_CTQ8/Reference-Number-M67854-03-R-3093/listing.html