Cold Weather Field Coat
The M-65 cold weather field coat serves as outer layer in cold-wet climate or as intermediate layer in cold-dry climate. It can be worn with a button-in liner for extra warmth and with a fur-ruffed hood for increased head protection.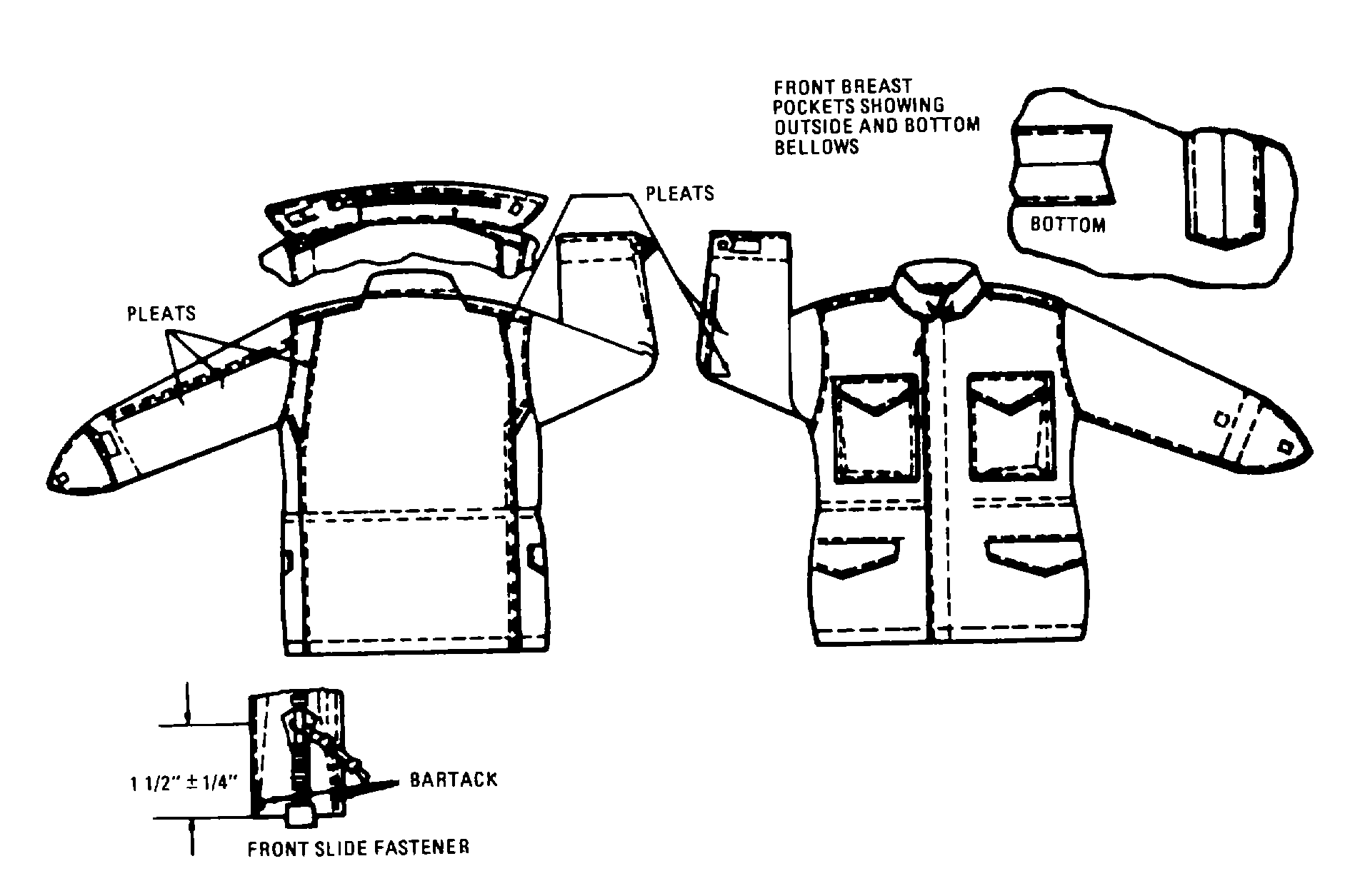 Description of Item
The coat is a lined hip length design, having a bi-swing back; convertible standup collar with adjustable tab closure, four buttonholes for attachment of a fur-ruffed hood and horizontal slide fastener closure on undercollar (exit for hood); attached hood (concealed between body layers) with drawcord adjustment; two piece set-in sleeves, adjustable cuffs with a hand shield extension; slide fastener fly front closure with snap fasteners; two bellows type breast pockets and two lower inside hanging pockets with snap fastener flaps closures; waist and hem drawcords; and inside buttons for attaching the insulating liner.
Materials Used
The coat is made of nylon, cotton, wind resistant, sateen fabric conforming to MIL-C-43191.
Specifications
Nomenclature
COAT, COLD WEATHER, FIELD
Logistics
Class 1: Coat, Olive Green 107
X-Short
Short
Regular
Long
X-Long
X-Small

8415-01-062-0677

8415-01-027-6032

8415-00-782-2933

8415-01-066-5578

Small

8415-01-063-0079

8415-00-782-2935

8415-00-782-2936

8415-00-782-2937

Medium

8415-01-062-0678

8415-00-782-2938

8415-00-782-2939

8415-00-782-2940

Large

8415-00-782-2941

8415-00-782-2942

8415-00-782-2943

X-Large

8415-01-234-3323

8415-00-782-2945

Class 2: Coat, Woodland Camouflage; LIN: E43851
X-Short
Short
Regular
Long
X-Long
X-Small

8415-01-099-7825

8415-01-099-7826

8415-01-099-7827

8415-01-099-7828

Small

8415-01-099-7829

8415-01-099-7830

8415-01-099-7831

8415-01-099-7832

Medium

8415-01-099-7833

8415-01-099-7834

8415-01-099-7835

8415-01-099-7836

8415-01-475-9514

Large

8415-01-099-7837

8415-01-099-7838

8415-01-099-7839

8415-01-475-9516

X-Large

8415-01-099-7840

8415-01-099-7841

8415-01-099-7842

8415-01-475-9519

Class 3: Coat, 6-color Desert Camouflage
Class 4: Coat, 3-color Desert Camouflage; LIN: C45813
X-Short
Short
Regular
Long
X-Long
X-Small

8415-01-325-6433

8415-01-325-6434

8415-01-325-6435

8415-01-325-6436

Small

8415-01-325-6437

8415-01-325-6438

8415-01-325-6439

8415-01-325-6440

Medium

8415-01-325-6441

8415-01-325-6442

8415-01-325-6443

8415-01-325-6444

Large

8415-01-325-6445

8415-01-325-6446

8415-01-325-6447

X-Large

8415-01-325-6448

8415-01-325-6449

8415-01-325-6450

Class 5: Coat, UCP; PGC: 02989, LIN: C75387
X-Short
Short
Regular
Long
X-Long
X-Small

8415-01-521-2219

8415-01-521-2225

8415-01-521-2228

8415-01-521-2229

Small

8415-01-521-2231

8415-01-521-2233

8415-01-521-2234

8415-01-521-2236

Medium

8415-01-521-2248

8415-01-521-2250

8415-01-521-2251

8415-01-521-2252

8415-01-521-2253

Large

8415-01-521-2259

8415-01-521-2254

8415-01-521-2265

8415-01-521-2267

X-Large

8415-01-521-2270

8415-01-521-2271

8415-01-521-2275

8415-01-521-2276
Afghan National Army (ANA), woodland, PGC: 04046

Small:

8415-01-658-3033

Medium:

8415-01-658-3037

Large:

8415-01-658-3045

X-Large:

8415-01-658-3051

Class 2, Afghan Uniform Police (AUP), PGC: 03961

X-Small:

8415-01-645-3075

Small:

8415-01-621-0177

Class 3, Afghan National Civil Order Police

X-Small:

8415-01-645-3077

Class 4, Afghan Border Police (ABP), PGC: 03965

X-Small:

8415-01-645-3081

Small:

8415-01-621-0213

Class 5, General Directorate Police Special Unit

X-Small:

8415-01-645-3083

Class 6, Afghan Local Police

X-Small:

8415-01-645-3084

Class 7, Afghan National Army

Small:

8415-01-633-9004

Medium:

8415-01-633-9008

Large:

8415-01-633-9009

X-Large:

8415-01-633-9010

XX-Large:

8415-01-633-9012
Notes
↑ https://www.fbo.gov/spg/DLA/J3/DSCP-C/SPE1C1-17-R-0060/listing.html
↑ https://www.fbo.gov/index?s=opportunity&mode=form&tab=core&id=ace7a58458bf4d6d508a9db151c9c0ba
↑ https://www.fbo.gov/index?s=opportunity&mode=form&tab=core&id=6d000ce4f11e6aca3b68a1c117c6c04e