Modular Lightweight Load-carrying Equipment II
Based on user feedback on the original system, the MOLLE requirements were modified to eliminate the need for a quick-release frame that integrates into the load bearing vest (LBV). The change allowed developers to replace the probe and socket mechanism, which caused problems in donning for some soldiers and Marines, to a quick-release mechanism for a more traditional permanently-mounted waist belt on the frame.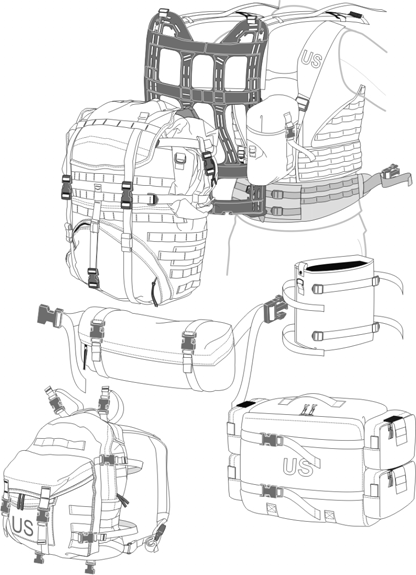 Components
The MOLLE system consists of
The Interlocking Attachment System is used to attach pockets to the Fighting Load Carrier, packs, and waist belt.
Pockets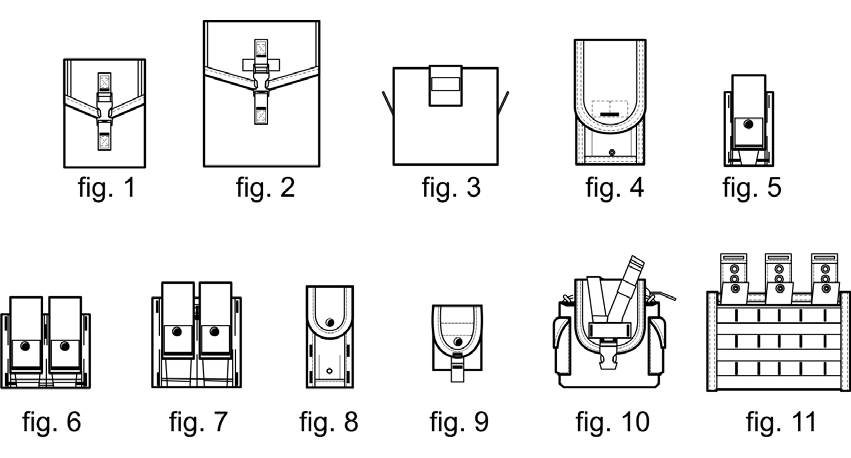 100 round SAW pouch
200 round SAW pouch
medical pocket
30-round double magazine pocket (simplified version is shown)
single high explosive grenade pocket
double high explosive grenade pocket
double illumination round pocket
9mm magazine pocket
fragmentation grenade pocket
M4 three magazine side x side pouch (added later)
30-round single magazine pocket was eliminated.
Accessories
In addition to the pre-configured duty sets, the MOLLE II system has additional components that may be added to meet more specific mission needs.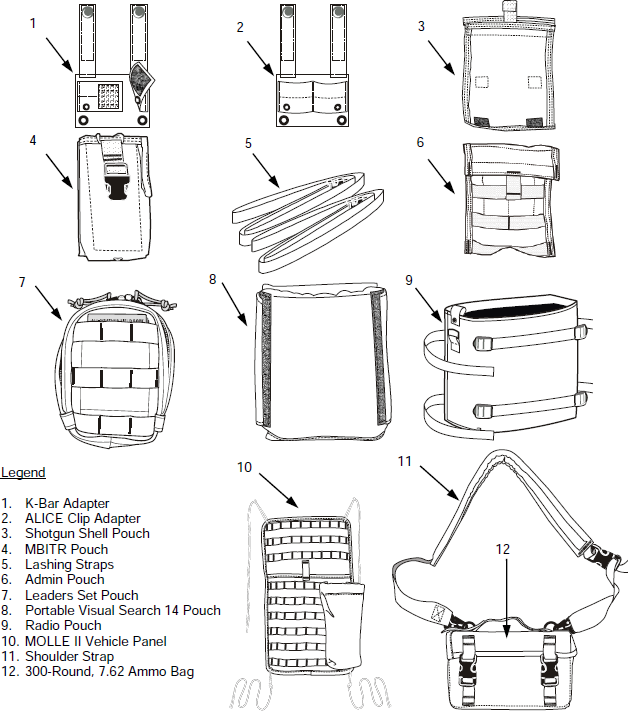 K-Bar Adapter
ALICE Clip Adapter
Shotgun Shell Pouch
MBITR Pouch
Lashing Straps
Admin Pouch
Leaders Pouch
PVS14 Pouch
Radio Pouch
Vehicle Panel
Shoulder Strap
300-Round, 7.62 Ammo Bag
Material
The base fabric used for all pockets/pouches, packs and rucksacks is MIL-C-43734 Class III textured nylon duck, coated on the back side with clear polyurethane and is water repellent treated. The fabric weighs 11.0 to 12.0 ounces per square yard and has a minimum breaking strength of 500 pounds warp and 300 pounds filling.
Specifications [1]
CO/PD 02-05: Medic Bag
CO/PD 05-03: Accessories
CO/PD 04-12: Holster/Leg Extender
CO/PD 10-03, 15 Nov 2010: Waterproof Pack Liner[2]

FG 504:

8465-01-591-7061

Tan 499:

8465-01-591-7521
Instruction
Further Improvements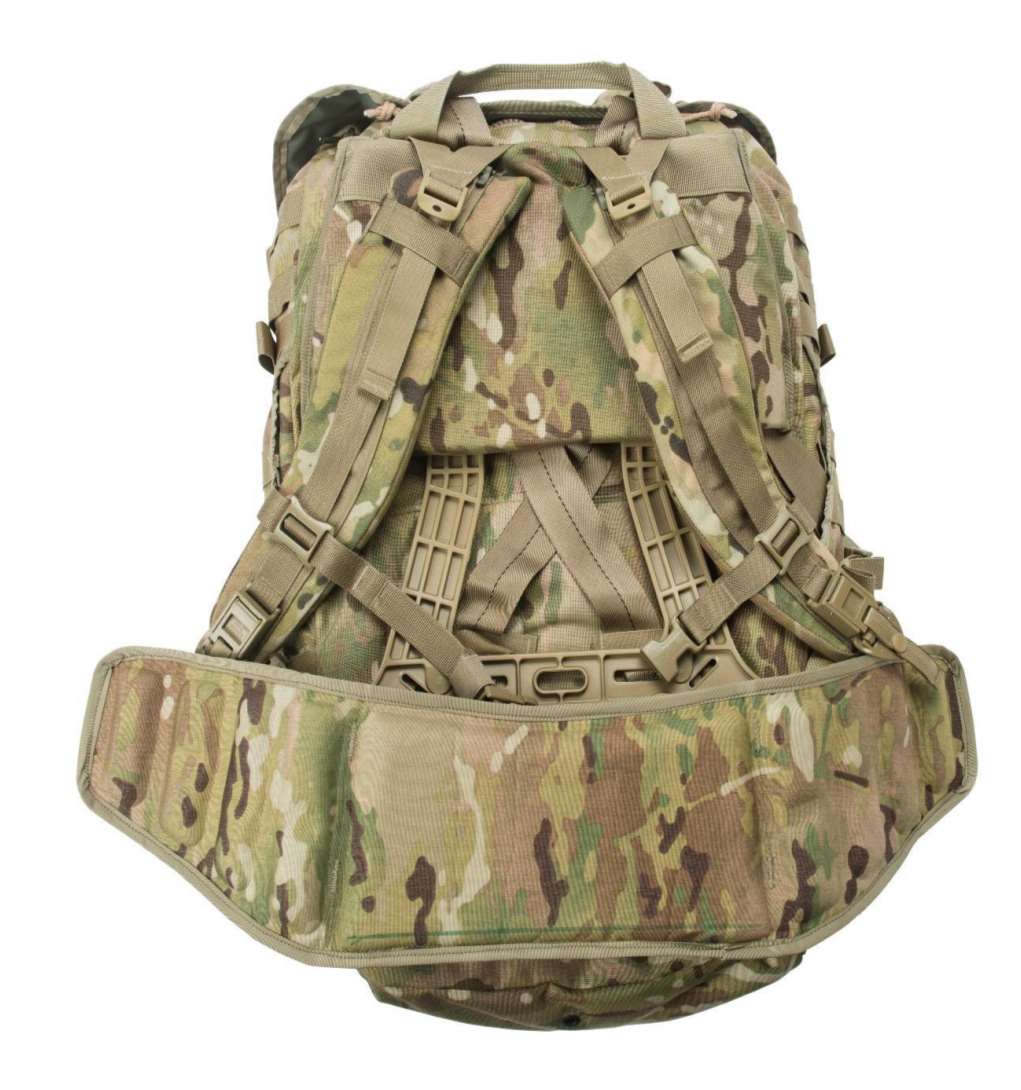 The new MOLLE Rucksack for Airborne and General Purpose Forces
A number of improvements in the MOLLE system are underway, including:
Logistics
| | | | | |
| --- | --- | --- | --- | --- |
| | Woodland | Desert | UCP | OCP |
| 100 Round SAW Pocket | 8465-01-465-2070 | 8465-01-491-7444 | 8465-01-524-7365 | 8465-01-580-2621 |
| 200 Round SAW Pocket | 8465-01-465-2263 | 8465-01-491-7522 | 8465-01-524-7620 | 8465-01-580-2628 |
| Medical Pocket | 8465-01-467-4988 | 8465-01-496-1083 | 8465-01-524-7638 | 8465-01-580-2781 |
| 30rd Double Mag Pocket | 8465-01-465-2092 | 8465-01-491-7435 | | |
| 30rd Double Magazine Pocket (simplified) | 8465-01-513-4058 | 8465-01-515-7562 | 8465-01-525-0606 | 8465-01-580-0701 |
| Single HE 40mm Grenade Pocket | 8465-01-465-4416 | 8465-01-491-7527 | 8465-01-524-7624 | 8465-01-580-2756 |
| Double HE 40mm Grenade Pocket | 8465-01-465-4417 | 8465-01-491-7526 | 8465-01-524-7628 | 8465-01-580-2763 |
| Double 40mm Pyrotechnic Pocket | 8465-01-465-4445 | 8465-01-491-7529 | 8465-01-524-7636 | 8465-01-580-2768 |
| Single 9mm Magazine Pocket | 8465-01-465-2155 | 8465-01-491-7520 | 8465-01-524-7361 | 8465-01-580-2610 |
| Fragmentation Grenade Pocket | 8465-01-465-2093 | 8465-01-491-7431 | 8465-01-525-0589 | 8465-01-580-0697 |
| Canteen/GP Pouch | 8465-01-484-0450 | 8465-01-494-0272 | 8465-01-525-0585 | 8465-01-580-0693 |
| 30rd 3-Mag Side by Side Pouch | 8465-01-513-4048 | 8465-01-515-4223 | 8465-01-525-0598 | 8465-01-580-0967 |
References
"Pack It Up". The Warrior. September-October 2001. [html]
https://peosoldier.army.mil/newpeo/Equipment/Temp.asp?id=CIE_MOLLE
http://www.baesystems.com/BAEProd/groups/public/documents/bae_publication/bae_pdf_mps_indv_molle.pdf
http://www.zombiehunters.org/forum/viewtopic.php?f=14&t=39804
Notes