Cold-Wet/Cold-Dry Clothing System
The combination Cold-Wet/Cold-Dry Clothing System (M-65) can be configured into two ensembles. The cold-wet ensemble is worn above 14°F (-10°C), and the cold-dry ensemble is worn below 14°F. The cold-dry ensemble protects down to -60°F (-51°C). The cold-wet configuration differs from the cold-dry in the number of layers and the choice of boots. The system uses layers of wool/cotton fabrics to trap air for insulation, and a water-repellent outer garment to maintain dryness.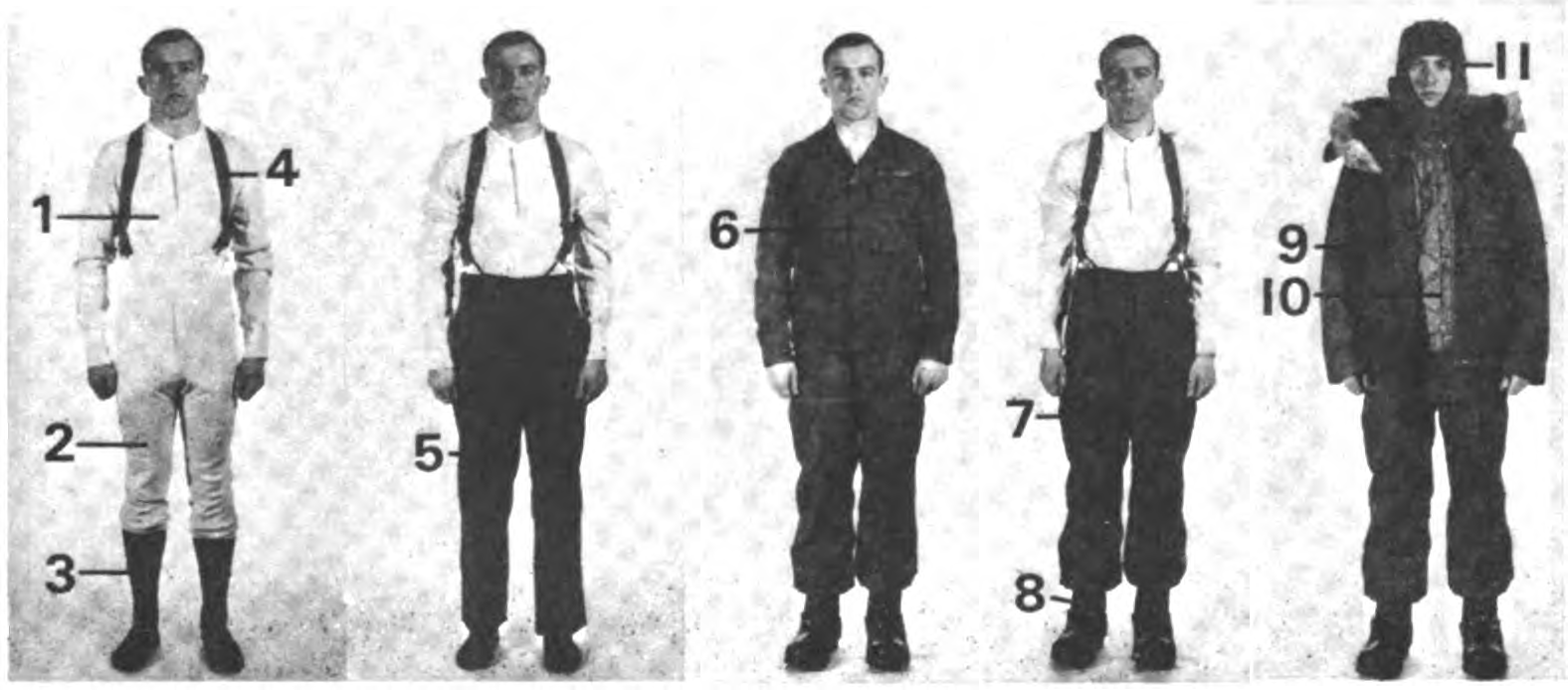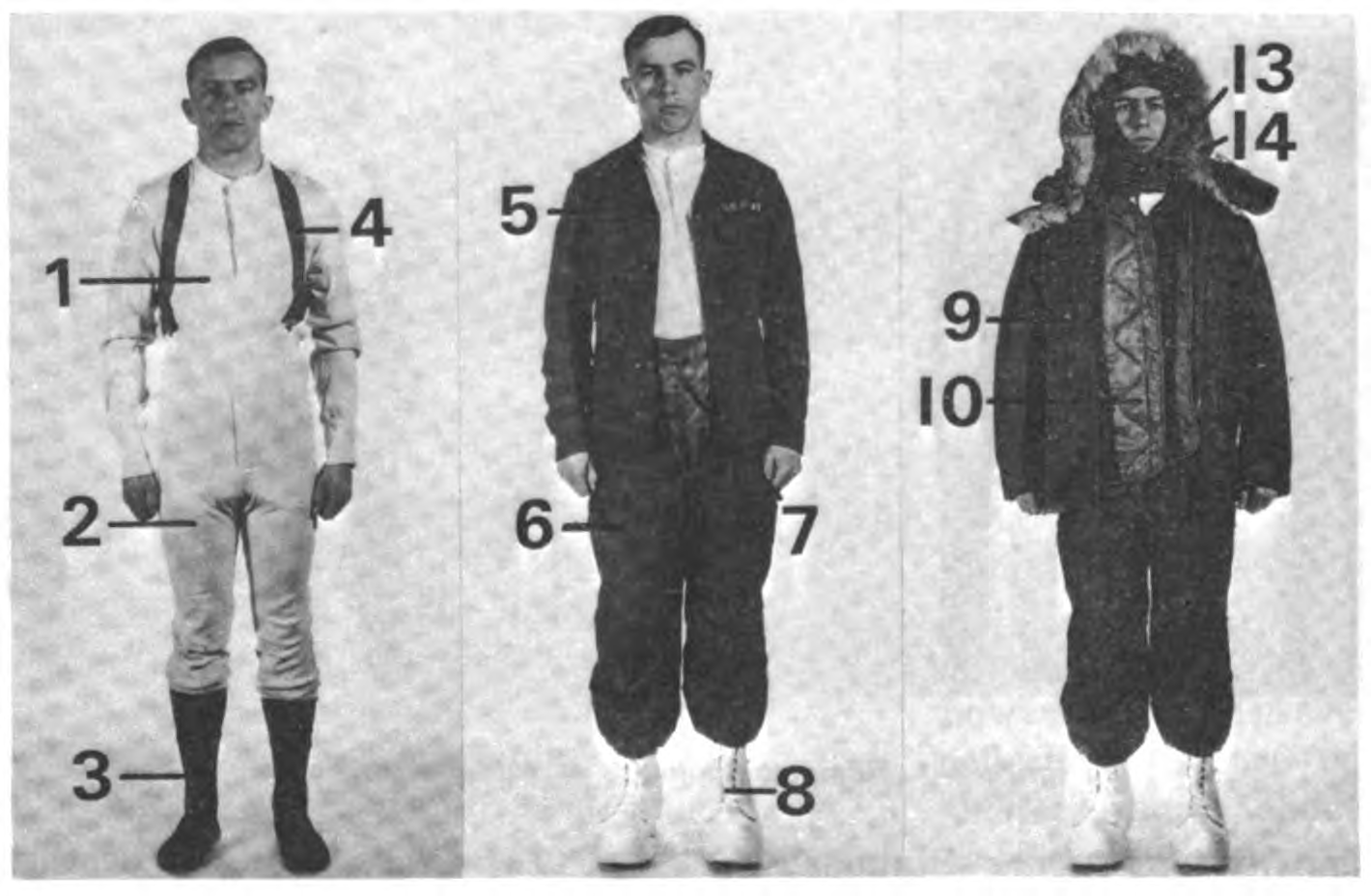 Cold Weather Conditions
The use of cold weather clothing is affected by two types of weather conditions: wet and dry. These conditions are amplified by humidity coupled with temperature and wind velocity; high humidity (wet conditions), low humidity (dry conditions).
Cold-wet conditions occur when temperatures are near freezing and variations in day and night temperatures cause alternate freezing and thawing. This freezing and thawing is often accompanied by rain and wet snow, causing the ground to become muddy and slushy. During these periods troops should wear clothing which consists of a water-repellent, wind-resistant outer layer and inner layers with sufficient insulation to provide ample protection in moderately cold weather (above 14°F).
Cold-dry conditions occur when average temperatures are lower than 14°F. The ground is usually frozen and snow is usually dry, in the form of fine crystals. Strong winds cause low temperatures to seem colder and increase the need for protection of the entire body (windchill). During these periods, troops should have available additional insulating layers of clothing. This is particularly true when entering static situations form a period of strenuous exercise.
Components
Layer
Cold-Wet (fig. 1)
Cold-Dry (fig. 2)
Inner
wool/cotton undershirt and drawers (1, 2), trouser suspenders (4)
wool/cotton undershirt and drawers (1, 2), trouser suspenders (4)
The suspenders are worn over the undershirt and support the drawers and all succeeding layers of trousers.
Intermediate
top
wool flannel shirt (6)
wool flannel shirt (5)
The shirt is worn outside trousers for better control of ventilation.
bottom
wool serge trousers (5)
field trouser liner (7)
Outer
top
field coat (9) with liner (10)
field coat (9) with liner (10), parka with liner (not shown)
bottom
field trousers (7)
field trousers (6)
Snow Camouflage
parka, trousers with liner, rucksack cover, mitten shell
Headwear
helmet liner cap (11), fur ruffed hood
helmet liner cap (13), fur ruffed hood (14)
Handwear
black leather gloves with inserts, trigger finger mittern shells with inserts, arctic mitten set, lightweight cotton work gloves (for delicate finger operaitons)
Footwear
wool cushion sole socks (3), mickey mouse boots (8)
wool cushion sole socks (3), bunny boots (8)
Improvement
References