Protective Combat Uniform
The Protective Combat Uniform (PCU) is an interchangeable 15-piece, 7-level ensemble (the original block 0 configuration) that can be worn in layers appropriate for the mission. The PCU replaces the LEP.
Seven levels of PCU
Wearing the PCU is a matter of mixing and matching the gray garments according to the anticipated conditions and activities of the user. Comfort levels range from -50°F to 45°F, and although there are seven levels of protection, clothing in each level is not progressively added or removed the colder or warmer the environment.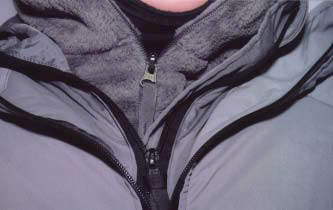 Level 1
A durable, silkweight Polartec Power Dry fabric worn next to the skin wicks away moisture and dries fast. It consists of a crew neck T-shirt and boxer shorts, or is available in long-sleeve top with invisible zipper and pants, built for comfort and minimal weight.
Level 2
A long-sleeve shirt and pants made from Polartec Power Dry fabric are worn next to the skin for extra warmth in extreme conditions, but still wicks away moisture quickly from skin and dries fast. An inserted side panel of Polartec X-Static fabric enhances fit and flexibility. The top has a front 15-inch zip for extra venting and a soft lining around the collar. Comfort features include an articulated side seam on the pants to minimize chafe on the kneecap.
Level 3
An insulative mid-layer jacket made from Polartec Thermal Pro High Loft fabric is water-repellent yet breathable. It is worn as an outer jacket in mild temperatures or as a heavy insulative layer in extreme cold. Seamless shoulders minimize chafe, which are then lined for extra warmth and padding for heavy pack straps.
Level 4
The soft windshirt is made from an encapsulated microfiber that repels water but also breathes for a variety of conditions. It is designed to pair with a next-to-skin layer for intense activity in cooler temperatures or with the Level 5 soft shell as a mid-layer. It stuffs into its own pocket for easy packing.
Level 5
The key to the entire system, this soft shell fabric jacket and pants are made with fibers encapsulated with silicone that are highly stretchable, windproof, water repellant and breathable (EPIC by Nextec). They are paired with Level 1 or 2 next-to-skin layers, ready for any cold weather aerobic activity.
Level 6
A lightweight waterproof and coated nylon hard shell is slightly oversized to fit easily and quickly over gear. The jacket features water-resistant zippers and armpit zips for maximum ventilation, pocket openings to quickly access inside layers and a hood that incorporates a stiff brim. The pants borrow the same design from Level 5 but provide waterproof protection.
Level 7
For extreme conditions, this lightweight, loft-insulated level in a jacket, vest and pants has the feel of down but retains its warmth when wet. Silicone-encapsulated fabric sheds water and is paired with Primaloft insulation for maximum warmth while the liner pulls away moisture.
Improvement
2006: block I

https://www.kwikpoint.com/products-page/military-visual-user-guides/protective-combat-uniform-visual-user-guide-and-protective-combat-uniform-ii-visual-user-guide/

2012: block II:

http://soldiersystems.net/2012/01/26/pcu-block-2-preview/
Logistics
CAGEs
2Z957: Southeastern Kentucky Rehabilitation Industries, Inc. (SEKRI)
1A9C2: ReadyOne Industries, Inc.
09NY9: Group Home Foundation, Inc.
070D2: Southside Training Employment Placement Services, Inc. (STEPS)
8M926: ORC Industries, Inc.
Cancelled NSNs, early models[1][2]
NSNs assigned in 2006
NSNs assigned in 2007
Level 1 Boxer, brown

CAGE: 2Z957
Part #: 8415-00-NSH-1713..24
X-Small Regular:

8415-01-552-5635

Small Regular:

8415-01-552-5637

Medium

Regular:

8415-01-552-5641

Long:

8415-01-552-5640

Large

Regular:

8415-01-552-5642

Long:

8415-01-552-5622

X-Large-

Regular:

8415-01-552-5625

Long:

8415-01-552-5626

XX-Large

Regular:

8415-01-552-5628

Long:

8415-01-552-5644

3X-Large

Regular:

8415-01-552-5631

Long:

8415-01-552-5634

Level 1 T-shirt, brown

CAGE: 2Z957
Part #: 8415-00-NSH-1725..36
X-Small Regular:

8415-01-552-5535

Small Regular:

8415-01-552-5536

Medium

Regular:

8415-01-552-5537

Long:

8415-01-552-5537

Large

Regular:

8415-01-552-5540

Long:

8415-01-552-5542

X-Large

Regular:

8415-01-552-5544

Long:

8415-01-552-5543

XX-Large

Regular:

8415-01-552-5547

Long:

8415-01-552-5546

3X-Large

Regular:

8415-01-552-5549

Long:

8415-01-552-5551
NSNs assigned in 2009; AOR1, AOR2
NSNs assigned in 2010, Multicam
Level 5 soft shell jacket, Multicam

CAGE: 1A9C2
Part #: 8415-00-NSH-2365..76
X-Small:

8415-01-583-8065

Small:

8415-01-583-9913

Medium

Regular:

8415-01-584-0790

Long:

8415-01-584-0793

Large

Regular:

8415-01-584-0817

Long:

8415-01-584-0822

X-Large

Regular:

8415-01-584-0823

Long:

8415-01-584-0830

XX-Large

Regular:

8415-01-584-1296

Long:

8415-01-584-1299

3X-Large

Regular:

8415-01-584-1303

Long:

8415-01-584-1307

Level 5 soft shell trousers, Multicam

CAGE: 1A9C2
Part #: 8415-00-NSH-2377..88
X-Small:

8415-01-583-9928

Small:

8415-01-583-9956

Medium

Regular:

8415-01-583-9960

Long:

8415-01-583-9968

Large

Regular:

8415-01-583-9975

Long:

8415-01-583-9977

X-Large

Regular:

8415-01-584-0119

Long:

8415-01-584-0121

XX-Large

Regular:

8415-01-584-0124

Long:

8415-01-584-0131

3X-Large

Regular:

8415-01-584-0133

Long:

8415-01-584-0137
References
http://www.polartec.com/markets/military/special-forces-protective-combat-uniform.aspx
http://www.polartec.com/uploads/pdfs/POL_Mil_PCU.pdf
http://www.nextec.com/epic_military.html
http://www.adsinc.com/pcu
http://tactical.beyondclothing.com/products/cold-weather-layering-system/pcu-version/
http://www.halysgear.com/index.asp
http://www.adsinc.com/blog/industry-news-and-events/environmental-clothing-systems/
SOF Unique Breakout APBI [2011]
http://www.dtic.mil/descriptivesum/Y2004/SOC/1160404BB.pdf
http://www.dtic.mil/descriptivesum/Y2006/SOCOM/1160404BB.pdf
http://www.dtic.mil/descriptivesum/Y2007/SOF/1160404BB.pdf
http://www.dtic.mil/descriptivesum/Y2008/SOCOM/1160404BB.pdf
http://www.dtic.mil/descriptivesum/Y2009/SOCOM/1160477BB.pdf
http://www.dtic.mil/descriptivesum/Y2010/SOCOM/1160402BB.pdf
http://www.dtic.mil/descriptivesum/Y2012/Other/1160478BB_7_PB_2012.pdf
http://soldiersystems.net/tag/pcu/
http://soldiersystems.net/2012/01/26/pcu-block-2-preview/
http://soldiersystems.net/2012/05/23/sofic-readyone/
http://soldiersystems.net/2012/05/24/pcu-level-9-kneepads/
http://soldiersystems.net/2012/09/27/polartec-integral-technology-sof-pcu-lvl-9-combat-shirt/
http://soldiersystems.net/2012/09/27/climashield-adopted-part-pcu/
http://ontariogeardo.blogspot.com/2011/12/protective-combat-uniform-pcu-history.html
http://www.defenseoutfitter.com/halyspcu.html
Notes
↑ https://www.federalregister.gov/documents/2003/02/07/03-3072/procurement-list-proposed-additions
↑ https://www.federalregister.gov/documents/2003/04/04/03-8252/procurement-list-additions