Flame Resistant Organizational Gear
Due to the threat of burn injuries stemming from OIF/OEF, a USON was established that required burn protection for the hands and face/neck. After extensive testing, it was determined that in addition to providing base layer of flame/fire protection, an outer layer of protection is essential.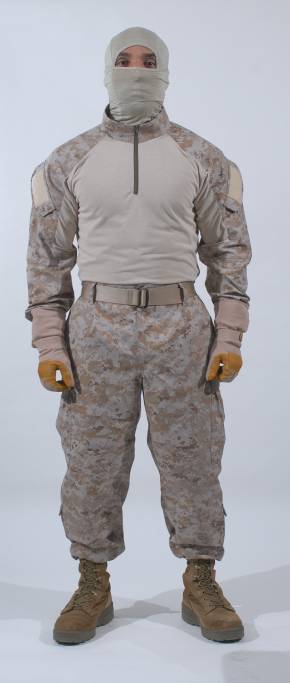 Component
FROG is broken down into two levels;
FROG I:

Gloves (local TAMCN: VG023): Enhanced durability and dexterity.

FROG II:

All the elements of FROG I and
FR Combat Ensemble: Designed to closely resemble the current Marine Corps Combat Utility Uniform (MCCUU).

Shirt: Torso made of lightweight FR material, moisture wicking, and anti-microbial properties. Sleeves are FR and contain sleeve pockets.
Trousers: Similar to the current MCCUU trousers, these trousers have a calf pocket that aides the wearer in quickly identifying FR from non-FR versions.

The flight suit and CVC suit are also considered FROG II assets.
FROG may be complemented by Flame Resistant (FR) Long Johns (tops and drawers) and Grid Fleece (tops and drawers) as part of a cold weather clothing system.
Production
The Marine Corps selected Potomac Field Gear's Advanced Protective Fabric (APF) clothing:
Lightweight Long Sleeve Mock Turtleneck Shirt (MMFR2014 - 008) and
Lightweight (MUFR2011 - 008) and
Mid Weight (MUFR1011 - 008) Balaclavas with Face Guard
as their first choice for the FROG program. The USMC has selected "Sand" color to designate gear that has fire resistant capabilities.
Instruction
References
FROG Program Review [2007]
AAFA brief [2008]
http://www.potomacfieldgear.com/frog.html
http://shop.camelbak.com/Military-Tactical/max-grip-nt-gloves/d/50188_c_3390_cl_2535
http://marinecorpstimes.com/news/2011/10/marine-survey-on-frogs-combat-gloves-100911/
http://www.marcorsyscom.usmc.mil/sites/pdmice/News/Clothing/MarineCorpsdelivered_Mar07.pdf