Mountain Combat Boots
The mountain combat boots are intended for use in rugged, mountainous terrain.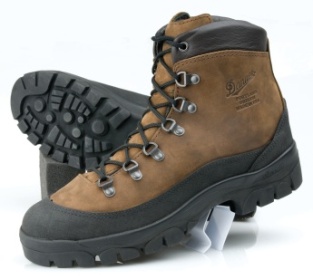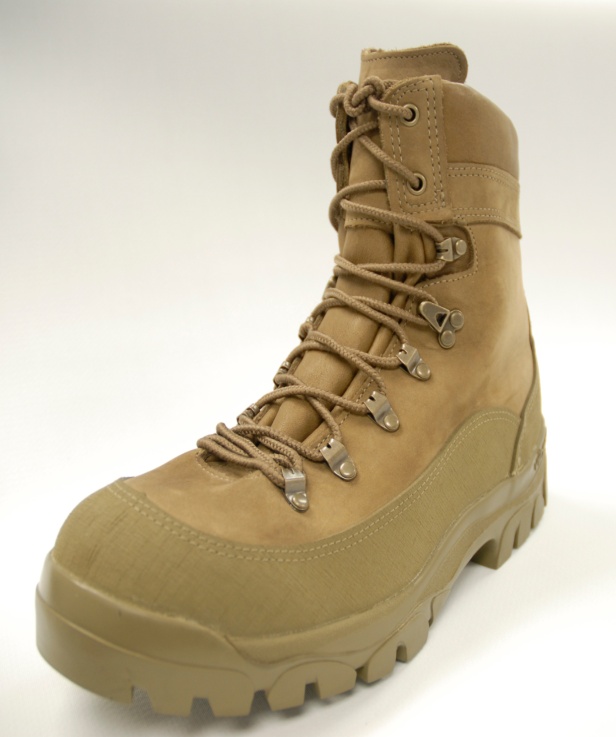 Description
The Army Mountain Combat Boot is designed as a hiking-style combat boot that provides durability, stability and performance that is required for extended operation in rugged mountainous terrain. The boot is waterproof (three-layer laminate bootie lining), antimicrobial, has a leather upper, foam padding for increased ankle support, speed lacing system with lacing locks, stiffened insole for increased stability, padded collar and removable cushion insert for comfort, rubber rand for increased durability and a rubber outsole (Vibram Bifida or equal) well suited for mountainous terrain.
Specification
Acquisition
Reference
http://www.defense.gov/contracts/contract.aspx?contractid=4883
https://www.fbo.gov/notices/eaf240577e3f5d3ac0b342215c6c8923
http://www.bellevilleshoe.com/Belleville_950_mountain_combat.html
http://www.danner.com/boots/dannerr-combat-hikertm-military-boots.html
http://www.militaryboots.com/news/us-army-selects-belleville-mountain-combat-boot/
http://www.militaryboots.com/news/danner-scores-8-6m-boot-contract/
http://soldiersystems.net/2011/02/02/belleville-to-be-awarded-contract-for-mountain-combat-boot/
http://soldiersystems.net/2010/09/03/army-mountain-combat-boot-chosen/
http://kitup.military.com/2010/08/army-close-to-mountain-boot-call.html
http://www.defense.gov/contracts/contract.aspx?contractid=4360
http://armylive.dodlive.mil/index.php/2010/03/deploying-soldiers-get-a-new-look/
http://www.army.mil/article/35184/
http://www.army.mil/article/49082/soldier-earns-purple-heart-credits-boots/
https://www.wewear.org/assets/1/7/Geringer.pdf
Army Footwear APBI [2010]
http://www.goreprotectivefabrics.com/remote/Satellite/Military-Army-Footwear/Combat-Hiker
http://www.goreprotectivefabrics.com/remote/Satellite/Military-Army-Footwear/Mountain-Combat-Hiker