Army Combat Glove
The Army Combat Gloves are intended for light work duty with flame and cut protection.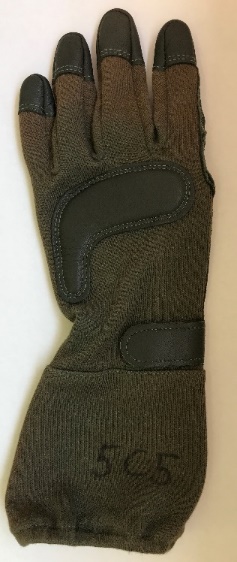 Material
The gloves shall be made from a combination of leather and inherently flame resistant textile materials. The textile material shall be simplex or interlock knitted cloth consisting of a yarn blend of 96% para-aramid and 4% conductive anti-stat fiber.
Design
The gloves shall be slip-on style with adjustable tabs (hook and loop) at the wrist containing a combination of knit cloth, leather palm and knuckle reinforcements on the back of the hand and storage loop/cord. Closed cell foam shall be used for the knuckle guard and palm patch.
Specification
Classification
Type I

Army Combat Gloves (ACG)

Type II

Army Combat Gloves - Capacitive (ACG-C): a capacitive variant of the ACG that allows the wearer to interact with touch screen devices while gloved.

Type III

Army Combat Gloves - Capacitive with Gauntlet: gauntleted version of the standard ACG-C to support Aviators and Combat Vehicle Crewmen.

Class 1

Foliage Green 504

Class 2

Coyote 498
Logistics
Type I, Class 1

X-Small:

8415-01-601-8148

Small:

8415-01-601-8149

Medium:

8415-01-601-8150

Large:

8415-01-601-8151

X-Large:

8415-01-601-8152

XX-Large:

8415-01-601-8153

Type II, Class 1; PGC: 00031[1]

X-Small:

8415-01-667-3015

Small:

8415-01-667-3019

Medium:

8415-01-667-3020

Large:

8415-01-667-3024

X-Large:

8415-01-667-3023

XX-Large:

8415-01-667-3452
Reference
http://www.dla.mil/Portals/104/Documents/TroopSupport/CloTex/2017%20JAPBI/Gloves.pdf
Notes
↑ https://sam.gov/opp/65ddd1d44ae276d2388b57cc82924aa9/view