Cold Weather Hydration Set
The Cold Weather Hydration Set (CWHS) consists of two wide mouth 32 oz. bottles with lids, two water bottle parkas with strap, and one cup. CWHS provides Marines a lightweight capability to carry and protect water from potentially harmfully contaminates, while also extending the temperature of the liquid. Additionally, the cup will provide a means to prepare food, drink and/or boil water.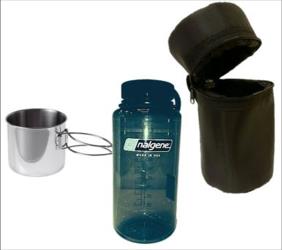 Features
The bottle must be made with a super-tough material, must be shatter proof, must have the capacity to hold 32 oz. of liquid (hot or cold), must be cylindrical in shape, must have a wide-mouth opening, must be made to resist staining, must resist retaining odors, must withstand temperatures from -200°F to 200°F.
The lid must fit the bottle firmly as to not come loose, must not leak, must be screw-on form with a loop-top cap.
The parka must have the ability to keep liquid hot for up to 8 hours, must prevent bottle from freezing in extreme cold weather, must keep liquid cool for several hours in desert type conditions, must be constructed to securely close around the entire cylindrical bottle, must be foam insulated with a Hydroseal 200 coated shell fabric, must have a Zipper top closure, must have the Qik-Stik attachment system (pat 36,279,804) or equal with 2-inch Velcro Webbing for secure closure, must have MOLLE compliant straps.
The cup must be made of a lightweight Steel or equivalent material with graduations and folding handles, must fit perfectly on the base of the water bottle, must fit the bottle without excess space, must be able to withstand temperatures up to 275°F for heating of liquids, must be able to accept 1/3 the volume of the bottle.
Logistics
complete system:

8465-01-536-0057

bottle; local TAMCN: VG058

Nalgene Lexan 32 oz. wide mouth bottle w/lid: #402065

8465-01-531-6826

[pdf]

cover; local TAMCN: VG059

Outdoor Reseach, SG water bottle parka, 1 Liter, w/Qik-Stik: #33413

http://military.outdoorresearch.com/gov/sg-water-bottle-parka-1-liter-old-7776.html

8465-01-531-6863

[pdf]

cup; local TAMCN: VG060

Liberty Mountain, Olicamp space saver cup: #330441

http://www.olicamp.com/products-cups-and-mugs/space-saver-cup

4240-01-531-6792

[pdf],

8465-01-530-1934
Acquisition
M67854-05-C-3029(cancelled): https://www.fbo.gov/spg/DON/USMC/Contracts_Office_CTQ8/M67854-05-C-3029/listing.html
M67854-05-R-3035: https://www.fbo.gov/spg/DON/USMC/Contracts_Office_CTQ8/M6785405R3035/listing.html
SPM1C1-06-R-0076: https://www.fbo.gov/spg/DLA/J3/DSCP-C/Reference-Number-PRNumber-12524277/listing.html
References