Lightweight Rucksack
The lightweight rucksack with aluminum frame was developed by Natick Laboratories for cold weather and mountain use as an initial effort to develop lightweight load-carrylng equipment in 1961. It weighed 3 pounds (1.4 kg) as compared to the 7.5 pound (3.4 kg) cotton rucksack with steel frame which it replaced.[1]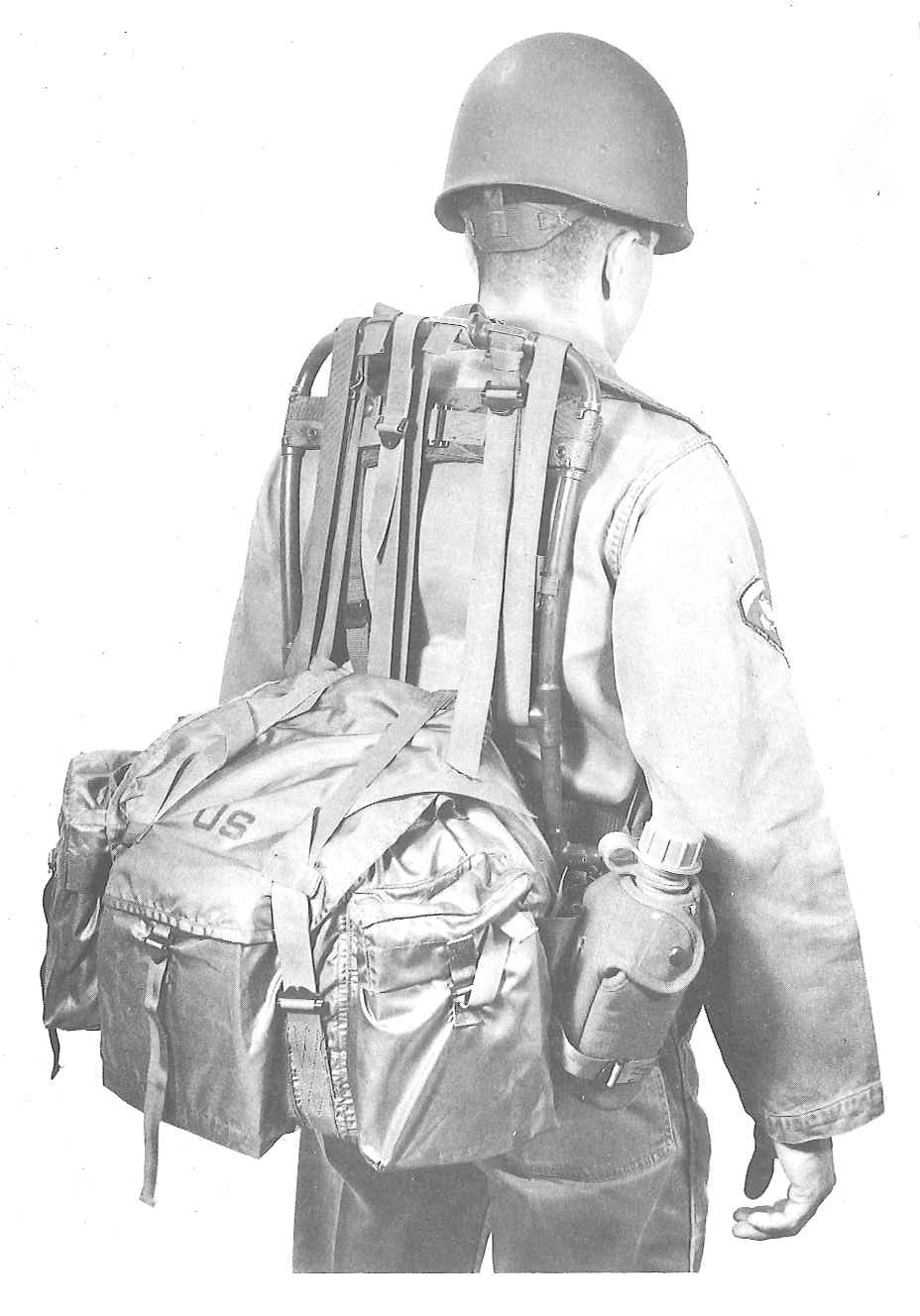 The aluminum frame gave the load stability on the wearer's back, and the nylon pack, with a capacity of 1.15 cubic feet was almost twice as large as the M-56 pack (.67 cu ft). Furthermore, a small demountable platform was provided which could be attached at the bottom of the frame; this shelf made it possible to carry items like a five-gallon water can, and thus served as a lightweight packboard.
Specification
Nomenclature
complete set: RUCKSACK, LIGHTWEIGHT
pack: FIELD PACK
frame: FRAME, FIELD PACK
waist strap: STRAP, WEBBING
Logistics
standardized model, complete set:

8465-782-3248

pack:

8465-782-2113

riveted frame:

8465-782-3249

waist strap:

8465-782-3250

shelf:

8465-782-6722

snow camouflage cover:

8465-270-0414

rifle butt pocket and strap assembly:

8465-782-2779

earlier models

T-62-1
T-62-2:

8465-889-3773

1964:

8465-965-4416
References
Metzger, Eldon C. (July 1975). History of the Development of the LINCLOE Loadcarrying Equipment. Natick, MA: United States Army Natick Development Center. [pdf]
Kennedy, Stepehen; Goldman, Ralph; Slauta, John. (May 1973). The Carrying of Loads within an Infantry Company. Natick,MA: Clothing and Personal Life Support Equipment Laboratory, US Army Natick Laboratories. [pdf]
Rottman, Gordon L. (January 26, 2017). Vietnam War US & Allied Combat Equipments. Oxford, UK: Osprey Publishing.
Monroe, C. A., Pickrall, Craig. (2012). American Web Equipment 1967-1991. Marlborough, Wiltshire, UK: The Crowood Press.
Notes
↑ M-1952 rucksack,

8465-261-6931

, MIL-R-1619A.