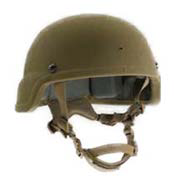 The Enhanced Combat Helmet (ECH) was developed in response to a 2009 USON to produce a helmet that providesballistic protection from selected small arms ammunition andfragmentation, yet maintains all other characteristics of the Marine Corps' Lightweight Helmet (LWH) and the Army's Advanced Combat Helmet (ACH).
Technical manual 10-8470-211-10 contains operating instructions and maintenance procedures for the Enhanced Combat Helmet.
Purchase description AR/PD 10-01 covers the requirements for the ballistic protective Nape Pad which provides ballistic protection to the area below the Advanced Combat Helmet and Enhanced Combat Helmet at the nape (back of the neck). This is a Critical Safety Item. This specification delineates the Nape Pad end item and its component performance requirements. This Nape Pad is functionally integrated with the Improved Outer Tactical Vest (IOTV) (FQ/PD 07-05), Advanced Combat Helmet (AR/PD 10-02), and Enhanced Combat Helmet (GL/PD 09-04).