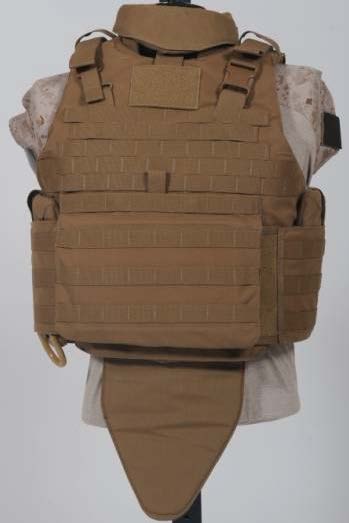 The Improved Modular Tactical Vest (IMTV) provides a number of features that improve upon mission performance, user comfort, and improved load carrying capability when compared to the existing Modular Tactical Vest including: modified removable ballistic panel pattern to provide more acceptable body coverage and protection; improved ergonomics, mobility, and fit at the shoulders; improved cummerbund design; improved comfort utilizing a lumbar pad support; and increased PALS footprint for load carriage. The IMTV provides protection from conventional fragmenting munitions and multiple hits from 9mm handgun rounds. The IMTV protection is increased to protect vital organs against multiple hits from small arm rifles and indirect fire flechette when front, back, and side small arms protective inserts are worn.
The Enhanced Side Small Arms Protective Insert (S-SAPI) and ballistic carriers provide increased side torso protection for Marines.
This purchase description provides for a multiple threat body armor system consisting of a base vest and modular components for tailoring protection levels to defeat multiple ballistic hazards across the battlefield continuum and manage armor weight. The Improved Modular Tactical Vest is a critical safety item.