Level VII: Extreme Cold Weather Parka and Trousers
The parka and trousers are the outermost level of protection in the system designed for use during static operations in extreme cold, dry conditions.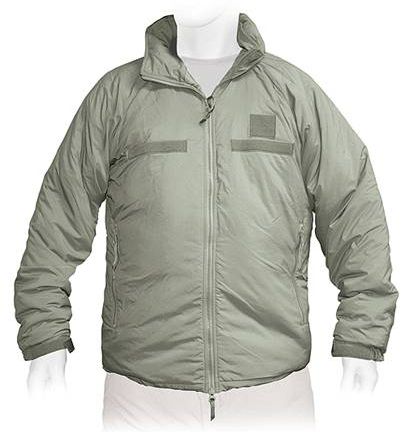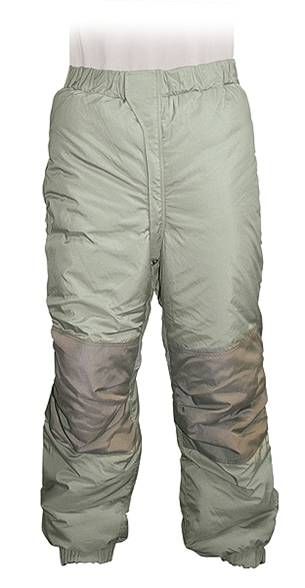 Description of Item
The parka features a two-way center-front zipper opening with a protective wind flap, nylon reinforced elbows, two front zipper pockets, a rip stop nylon inner lining and an elastic cord in the bottom hem for adjustability. It is also constructed with a collar containing a collapsible insulated hood with drawstring that stows easily inside the collar. In addition, there are Velcro fasteners to attach rank badges and name plates as well as elastic cuffs with Velcro adjustment straps.
The trousers feature a zippered fly opening, an elastic waist with provisions for suspenders, nylon reinforced knees and full-length side-zipper openings to facilitate donning without removal of boots or shoes. All zippers have a thong for ease of opening and closing when wearing gloves.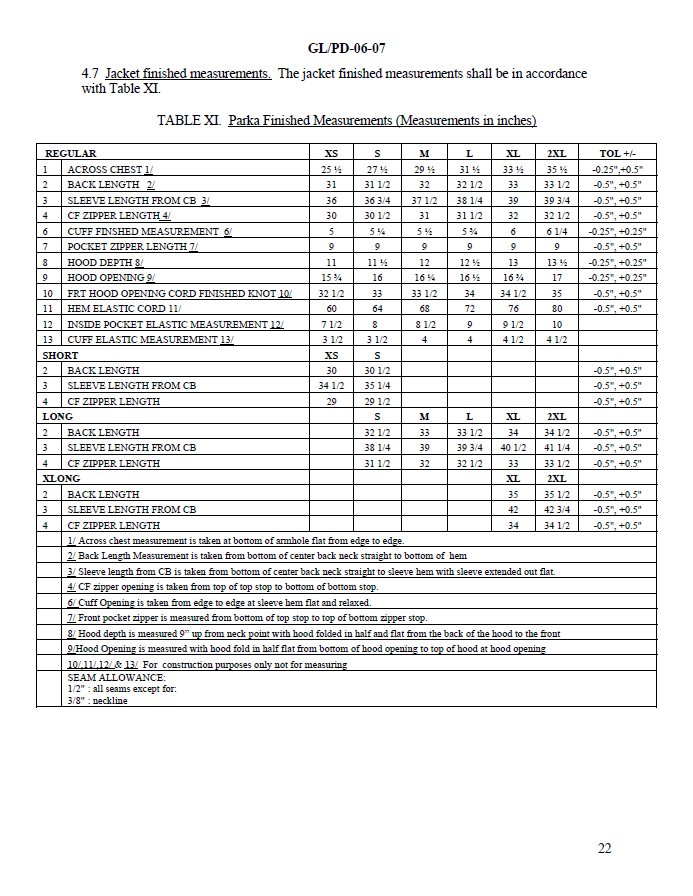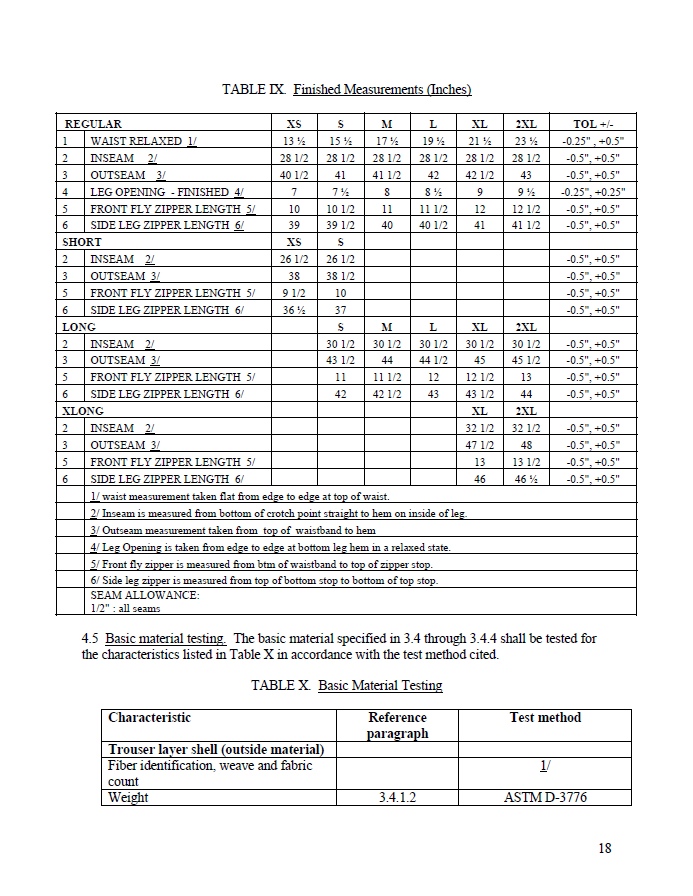 Materials Used
The parka and trousers are constructed with an outer shell fabric that has a water resistant finish (e.g. Praetorian, Nextec Style No. 1161) and with PrimaLoft Sport Thermal bonded high-loft insulation (later replaced by Climashield APEX).[1][2]
Specifications
Logistics
Parka, Urban Gray 505; Class 1, GL/PD 06-07A; PGC: 03258, LIN: P05881
X-Short
Short
Regular
Long
X-Long
XX-Long
X-Small

8415-01-545-8540

8415-01-545-8544

8415-01-545-8566

8415-01-545-8595

8415-01-545-8603

8415-01-545-8613

Small

8415-01-545-8618

8415-01-545-8642

8415-01-538-6278

8415-01-545-8661

8415-01-545-8701

8415-01-545-8705

Medium

8415-01-545-8713

8415-01-545-8718

8415-01-538-6289

8415-01-545-8724

8415-01-545-8923

8415-01-545-8926

Large

8415-01-545-9492

8415-01-545-9495

8415-01-538-6300

8415-01-538-6308

8415-01-545-9498

8415-01-545-9522

X-Large

8415-01-545-9531

8415-01-545-9540

8415-01-538-6312

8415-01-538-6315

8415-01-545-9542

8415-01-545-9554

XX-Large

8415-01-545-9558

8415-01-545-9568

8415-01-545-9579

8415-01-545-9582

8415-01-545-9610

8415-01-545-9618

Trousers, Urban Gray 505; PGC: 03259, LIN: T57106
X-Short
Short
Regular
Long
X-Long
XX-Long
X-Small

8415-01-545-9902

8415-01-545-9907

8415-01-545-9914

8415-01-545-9915

8415-01-545-9917

8415-01-545-9918

Small

8415-01-545-9921

8415-01-545-9955

8415-01-538-6720

8415-01-545-9958

8415-01-545-9960

8415-01-545-9969

Medium

8415-01-546-0014

8415-01-546-0017

8415-01-538-6695

8415-01-546-0019

8415-01-546-0021

8415-01-546-0028

Large

8415-01-546-0030

8415-01-546-0033

8415-01-538-6704

8415-01-538-6706

8415-01-546-0034

8415-01-546-0036

X-Large

8415-01-546-0037

8415-01-546-0039

8415-01-538-6707

8415-01-538-6709

8415-01-546-0040

8415-01-546-0041

XX-Large

8415-01-546-0042

8415-01-546-0116

8415-01-546-0117

8415-01-546-0118

8415-01-546-0119

8415-01-546-0121
Parka, Tan 499; Class 2, GL/PD 06-07A
"USMC Layer 7" [3][4][5]

Parka, Coyote 498; Class 3, GL/PD 06-07A; PGC: 04163[6]

X-Small

Short:

8415-01-653-2644

Regular:

8415-01-653-2647

Small

Short:

8415-01-653-2654

Regular:

8415-01-653-2656

Long:

8415-01-653-2851

Medium

Short:

8415-01-653-2853

Regular:

8415-01-653-2874

Long:

8415-01-653-2885

Large

Regular:

8415-01-653-2894

Long:

8415-01-653-2895

X-Large

Regular:

8415-01-653-2896

Long:

8415-01-653-2900

X-Long:

8415-01-653-2910

XX-Large

Regular:

8415-01-653-2914

Long:

8415-01-653-2924

X-Long:

8415-01-653-2928

Trousers, PGC: 04164, Class 3, GL/PD 06-18A[7]

X-Small

Short:

8415-01-653-2111

Regular:

8415-01-653-2113

Small

Short:

8415-01-653-2114

Regular:

8415-01-653-2117

Long:

8415-01-653-2119

Medium

Short:

8415-01-653-2120

Regular:

8415-01-653-2122

Long:

8415-01-653-2174

Large

Regular:

8415-01-653-2175

Long:

8415-01-653-2177

X-Large

Regular:

8415-01-653-2243

Long:

8415-01-653-2279

X-Long:

8415-01-653-2281

XX-Large

Regular:

8415-01-653-2283

Long:

8415-01-653-2284

X-Long:

8415-01-653-2286
Commercial Items
https://www.wildthingsgear.com/products/gen-iii-level-vii-parka
https://www.wildthingsgear.com/products/gen-iii-level-vii-trousers
https://www.tennierindustries.com/product/layer-7-parka/
https://www.tennierindustries.com/product/layer-7-trousers/
Similar Item
References
http://www.adsinc.com/catalog/apparel/clothing-systems/gen-iii-ecwcs-level-vii-top
http://www.nextec.com/epic_military.html
https://www.performancedays.com/files/performancedays/content/exhibitors/documents/306/Climashield_military_brochure.pdf
Notes