Mid-weight Layer: Shirt and Drawers
The FREE system mid-weight layer consists of a shirt and drawers.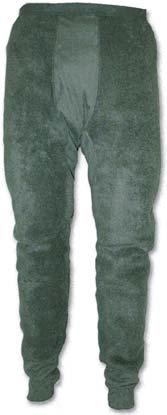 Description
The shirt and drawers are constructed with a quick-drying, high loft Polartec thermal FR fleece made with DuPont Nomex fiber for optimal warmth and breathability without weight. This fleece layer provides maximum comfort when worn over base layers and underneath the uniform. The shirt and drawers are available in tan or foliage green.
Similar Items
Logistics
Shirt, foliage green 504

; LIN: DA157E

X-Small

Short:

8415-01-577-3710

Regular:

8415-01-577-4009

Long:

8415-01-577-4025

Small

Short:

8415-01-577-4031

Regular:

8415-01-577-4038

Long:

8415-01-577-4514

Medium

Short:

8415-01-577-4516

Reagular:

8415-01-577-4531

Long:

8415-01-577-4544

Large

Short:

8415-01-577-4555

Regular:

8415-01-577-4628

Long:

8415-01-577-4673

X-Large

Short:

8415-01-577-4777

Regular:

8415-01-577-4791

Long:

8415-01-577-4793

XX-Large

Short:

8415-01-577-4794

Regular:

8415-01-577-4795

Long:

8415-01-577-4796

Shirt, tan

X-Small

Short:

8415-01-588-1045

Regular:

8415-01-588-1101

Long:

8415-01-588-1263

Small

Short:

8415-01-588-1267

Regular:

8415-01-588-1271

Long:

8415-01-588-1383

Medium

Short:

8415-01-588-1388

Regular:

8415-01-588-1391

Long:

8415-01-588-1403

Large

Short:

8415-01-588-1416

Regular:

8415-01-588-1261

Long:

8415-01-588-1424

X-Large

Short:

8415-01-588-1426

Regular:

8415-01-588-1429

Long:

8415-01-588-1431

XX-Large

Short:

8415-01-588-1436

Regular:

8415-01-588-1437

Long:

8415-01-588-1438

Drawers, foliage green 504

; LIN: DA1531

X-Small

Short:

8415-01-577-6735

Regular:

8415-01-577-6751

Long:

8415-01-577-6784

Small

Short:

8415-01-577-6904

Regular:

8415-01-577-6909

Long:

8415-01-577-6922

Medium

Short:

8415-01-577-7131

Regular:

8415-01-577-7134

Long:

8415-01-577-7139

Large

Short:

8415-01-577-7142

Regular:

8415-01-577-7144

Long:

8415-01-577-7147

X-Large

Short:

8415-01-577-7150

Regular:

8415-01-577-7154

Long:

8415-01-577-7163

XX-Large

Short:

8415-01-577-7164

Regular:

8415-01-577-7169

Long:

8415-01-577-7173

Drawers, tan

X-Small

Short:

8415-01-587-9853

Regular:

8415-01-587-9855

Long:

8415-01-587-9858

Small

Short:

8415-01-587-9863

Regular:

8415-01-587-9866

Long:

8415-01-588-0254

Medium

Short:

8415-01-588-0259

Regular:

8415-01-588-0261

Long:

8415-01-588-0269

Large

Short:

8415-01-588-0270

Regular:

8415-01-588-0273

Long:

8415-01-588-0283

X-Large

Short:

8415-01-588-0290

Regular:

8415-01-588-0292

Long:

8415-01-588-0300

XX-Large

Short:

8415-01-588-0308

Regular:

8415-01-588-0313

Long:

8415-01-588-0315
References
http://www.polartec.com/uploads/pdfs/POL_Mil_FREE.pdf