Parka
The NWU parka is intended for use by US Navy personnel when weather conditions dictate and as the outer layer protection when used during cold/wet weather operations.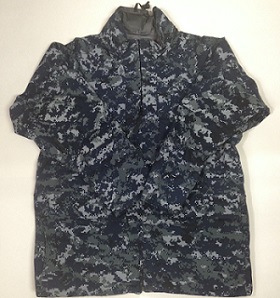 Design
The parka shall have a collar with a drawcord for adjustment and a stowed hood with visor, water resistant slide fastener front closure and underarm openings. The parka shall have two upper chest pockets with concealed water resistant slide fastener openings, two lower pockets with flaps and concealed hand warmer pockets, adjustable wrist tabs, a rank tab, and waist and hem drawcord adjustments that are concealed inside the lower pockets. A hanger loop shall be located on the top edge of the collar. The parka shall have an interoperable inside front slide fastener which shall interface with liner. The parka shall also have snap attachment assembly tab located at the inside bottom of each sleeve as indicated on the pattern. The drawcords shall be anchored except for the waist adjustment drawcords.
Material
The basic material for the parka shall be a laminated, waterproof and moisture vapor permeable cloth.
Type I (blue digital): Type III, MIL-PRF-32142
Type II (desert digital): Type II, NCTRF PD 06-11
Type III (woodland digital): Type III, NCTRF PD 06-11
Specifications
Nomenclature
Logistics
Type I, PGC: 03287

X-Small

X-Short:

8415-01-539-9298

Short:

8415-01-539-9506

Regular:

8415-01-539-9862

Long:

8415-01-539-9897

Small

XX-Short:

8415-01-582-3528

X-Short:

8415-01-539-9302

Short:

8415-01-539-9591

Regular:

8415-01-539-9871

Long:

8415-01-539-9902

X-Long:

8415-01-539-9927

XX-Long:

8415-01-582-3510

XX-Long +1:

8415-01-599-9666

XX-Long +2:

8415-01-598-7725

Medium

XX-Short:

8415-01-582-3530

X-Short:

8415-01-539-9313

Short:

8415-01-539-9682

Regular:

8415-01-539-9872

Long:

8415-01-539-9915

X-Long:

8415-01-539-9931

XX-Long:

8415-01-582-5593

XX-Long +1:

8415-01-599-9679

XX-Long +2:

8415-01-598-8077

Large

X-Short:

8415-01-539-9333

Short:

8415-01-539-9767

Regular:

8415-01-539-9873

Long:

8415-01-539-9916

X-Long:

8415-01-539-9932

XX-Long:

8415-01-576-9176

X-Large

Short:

8415-01-539-9861

Regular:

8415-01-539-9875

Long:

8415-01-539-9922

X-Long:

8415-01-539-9935

XX-Long:

8415-01-576-9223

XX-Large

Regular:

8415-01-539-9879

Long:

8415-01-539-9924

X-Long:

8415-01-539-9944

XX-Long:

8415-01-576-9242

Type II, PGC: 03611

X-Small

X-Short:

8415-01-573-4593

Short:

8415-01-573-4693

Regular:

8415-01-573-4699

Long:

8415-01-573-4755

Small

XX-Short:

8415-01-588-2995

X-Short:

8415-01-573-4763

Short:

8415-01-573-4926

Regular:

8415-01-573-4938

Long:

8415-01-573-4946

X-Long:

8415-01-573-4953

XX-Long:

8415-01-588-6110

3X-Long:

8415-01-588-6115

Medium

XX-Short:

8415-01-588-6142

X-Short:

8415-01-573-5016

Short:

8415-01-573-5017

Regular:

8415-01-573-5034

Long:

8415-01-573-5037

X-Long:

8415-01-573-5041

XX-Long:

8415-01-588-6164

3X-Long:

8415-01-588-6176

Large

X-Short:

8415-01-573-5048

Short:

8415-01-573-5059

Regular:

8415-01-573-5060

Long:

8415-01-573-5270

X-Long:

8415-01-573-5273

XX-Long:

8415-01-586-6517

3X-Long:

8415-01-586-6521

X-Large

Short:

8415-01-573-5279

Regular:

8415-01-573-5287

Long:

8415-01-573-5296

X-Long:

8415-01-573-5304

XX-Long:

8415-01-588-6226

3X-Long:

8415-01-588-6208

XX-Large

Regular:

8415-01-573-5306

Long:

8415-01-573-5469

X-Long:

8415-01-573-5475

XX-Long:

8415-01-588-6235

3X-Long:

8415-01-588-6381

Type III, PGC: 03612

X-Small

X-Short:

8415-01-573-4686

Short:

8415-01-573-4771

Regular:

8415-01-573-4746

Long:

8415-01-573-4754

Small

XX-Short:

8415-01-586-6732

X-Short:

8415-01-573-4759

Short:

8415-01-573-4764

Regular:

8415-01-573-4768

Long:

8415-01-573-4802

X-Long:

8415-01-573-4804

XX-Long:

8415-01-586-6734

3X-Long:

8415-01-586-6738

Medium

XX-Short:

8415-01-586-6743

X-Short:

8415-01-573-4927

Short:

8415-01-573-4933

Regular:

8415-01-573-4937

Long:

8415-01-573-4950

X-Long:

8415-01-573-4955

XX-Long:

8415-01-586-6772

3X-Long:

8415-01-586-6774

Large

X-Short:

8415-01-573-4963

Short:

8415-01-573-4967

Regular:

8415-01-573-4969

Long:

8415-01-573-4974

X-Long:

8415-01-573-4978

XX-Long:

8415-01-586-6776

3X-Long:

8415-01-586-7066

X-Large

Short:

8415-01-573-4985

Regular:

8415-01-573-5033

Long:

8415-01-573-5036

X-Long:

8415-01-573-5044

XX-Long:

8415-01-586-7070

3X-Long:

8415-01-586-7075

XX-Large

Regular:

8415-01-573-5058

Long:

8415-01-573-5051

X-Long:

8415-01-573-5055

XX-Long:

8415-01-586-7085

3X-Long:

8415-01-586-7103
Acquisition
https://www.fbo.gov/spg/DLA/J3/DSCP-PB/SPE1C1-16-R-0103/listing.html
https://www.fbo.gov/spg/DLA/J3/DSCP-PB/SPE1C1-17-R-0040/listing.html
Similar Item
Reference
http://www.public.navy.mil/bupers-npc/support/uniforms/uniformregulations/uniformcomponents/Pages/3603_10.aspx