Marine Corps Light Duty Glove Insert
The Light Duty Glove Insert is a product improvement replacing the Improved Glove Insert. The intent is to eliminate the melt/drip hazard, which could occur with the old polyester/lycra insert, by changing to a cotton/lycra insert.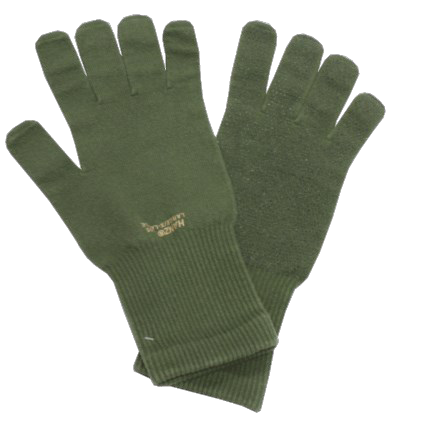 Features
The glove insert is a four finger and thumb design designed to be worn either alone or under a glove shell. It is made from a water repellent treated knitted cotton/lycra blend with grip dots covering the fingers and palm.
Specification
CR/PD 02-2008 SYSCOM

Danalco Inc.'s Seamless Cotton and Lycra Liner glove, Product Numbers 2101 and 2105, has been found to meet the requirements listed in this purchase description.
Logistics
Similar Item
Acquisition
Sources Sought: RFIGLOVEINSERT

https://www.fbo.gov/notices/5ed42e3900bed3a28d389c30dcb9f9d7
https://acquisition.army.mil/asfi/synopsis_attach_viewer.cfm?psolicitationnbr=RFIGLOVEINSERT&pseqnbr=264789 [pdf]

Sources Sought: M67854-15-I-1042

https://www.fbo.gov/spg/DON/USMC/Contracts_Office_CTQ8/M67854-15-I-1042/listing.html
References
Light Duty Glove Insert infopaper @PMICE [2008]