Improved Rain Suit
The Improved Rain Suit (IRS) forms a waterproof outer shell worn over other clothing and gear. It is lightweight; however, IRS functions strictly as a rain barrier, offering little protection from the cold.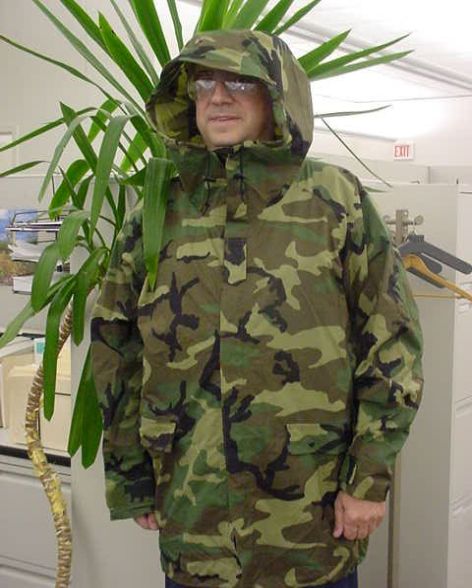 Description
The IRS parka has a roll-up hood with a visor and drawstring closure. There are armpit zippers for ventilation, a heavy full-length zipper in front covered by a storm flap that closes with snaps. The pockets are pass-through to inner garments. The elbows are reinforced and Velcro closures at the cuffs make a tight fit. The parka has inside buttons for attaching the CW coat insulating liner.
The IRS trousers have a draw-string at the waist, a center zipper, pass-through pockets, Velcro closures at the ankles, and long leg zippers for easy on-off. The seat and knees are reinforced.
Material
The IRS is made of SympaTex, a lightweight breathable, waterproof material made by SympaTex Technologies GmbH. SympaTex is a nylon material that is pliable and moisture-vapor-semi-permeable. It resist external water while allowing perspiration or other moisture to transfer from inside to outside, thereby keeping the wearer dry and comfortable.
Specification
Nomenclature
PARKA, IMPROVED RAINSUIT
TROUSERS, IMPROVED RAINSUIT
Logistics
Parka
Trousers

Woodland; LIN: T38070

XX-Small:

8405-01-443-9430

X-Small:

8405-01-443-9436

Small:

8405-01-443-9449

Medium:

8405-01-443-9487

Large:

8405-01-443-9488

X-Large:

8405-01-443-9493

XX-Large:

8405-01-443-9498

UCP; LIN: T38070

XX-Small:

8415-01-527-1537

X-Small:

8415-01-527-1541

Small:

8415-01-527-1545

Medium:

8415-01-527-1551

Large:

8415-01-527-1555

X-Large:

8415-01-527-1560

XX-Large:

8415-01-527-1561

3-color desert camouflage

XX-Small:

8405-01-502-2139

X-Small:

8405-01-502-2141

Small:

8405-01-502-2142

Medium:

8405-01-502-2144

Large:

8405-01-502-2146

X-Large:

8405-01-502-2147

XX-Large:

8405-01-502-2148
References
http://www.orcind.com/product-category/military-grade-outerwear/hard-shell-rain-suits/
http://afcpo.com/images/T_O_1-1-691_Table_II_Commercial_Rain_Gear_Additions_May_2014.pdf
Notes
↑ http://static.e-publishing.af.mil/production/1/afrc/publication/afi23-201_afrcsup/afi23-201_afrcsup.pdf