Plastic Water Canteen (M-1961)
The plastic water canteen is intended primarily for use in temperate and tropical environments for carrying drinking water.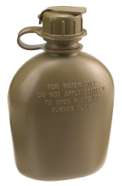 Description
The plastic (polyethylene) water canteen holds 1 quart. The canteen, which fits into the standard canteen cup, is olive drab, has a plastic screw cap with an attaching strap, and is carried in the standard canteen cover.
Specification
Nomenclature
CANTEEN, WATER, PLASTIC, WITH SCREW CAP
Logistics
IDN: 01727C
canteen with plain cap:

8465-00-889-3744

strap:

8465-01-082-6449
Improvement
Similar Commercial Item
Notes
↑ addition: https://www.federalregister.gov/documents/2003/10/03/03-25156/procurement-list-proposed-additions-and-deletions
↑ deletion: https://www.gpo.gov/fdsys/pkg/FR-2008-06-16/pdf/E8-13440.pdf