Assault Body Armor
The assault body armor component of the assault vest system (AVS) exceeds the National Institute of Justice (NIJ) Standards for Type IIIA and provides protection from multiple impacts of steel-jacketed 9mm, 123 gr. rounds traveling at 1445 fps and all lesser threats. The assault body armor is designed for use with the assault load bearing vest.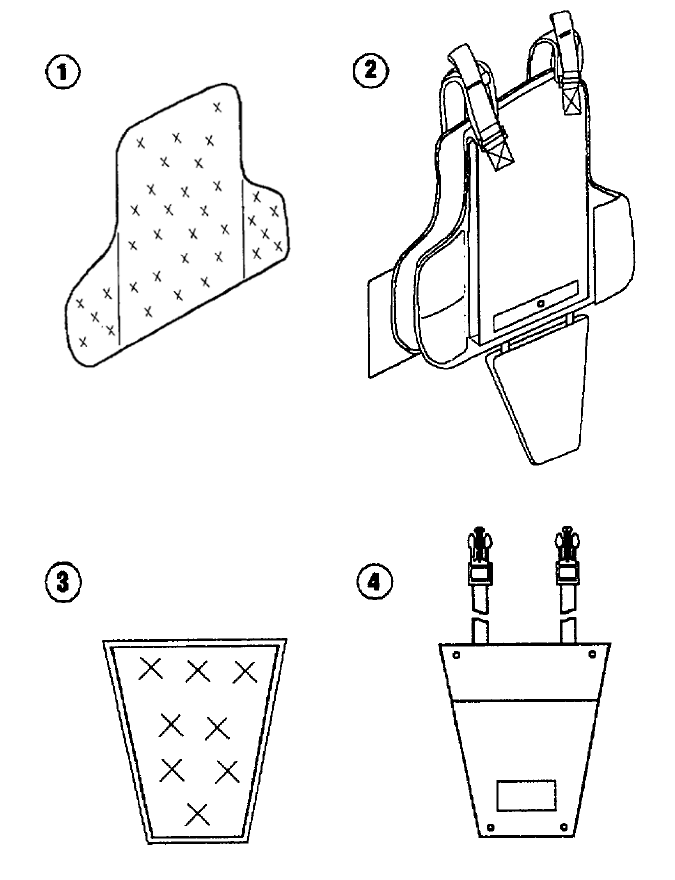 Component
The assault body armor consists of
the body armor ballistic panel,
the body armor outershell,
the groin protector ballistic panel, and
the groin protector outershell.
The ballistic panels are contained in a waterproof nylon carrier that may be removed for inspection and cleaning. The outershell material is olive drab, 1000 denier Cordura nylon that resists abrasion and water absorption. The body armor ballistic panel and outershell are available in eight sizes. The groin protector ballistic panel and outershell are one-size-fits-all. One each of the items above is provided with each AVS.
Logistics
body armor

ballistic panel:

Small Regular:

NSN:

8470-01-444-9909

part number: Point Blank Body Armor, Inc. #Z4311Y-SR

Small Long:

NSN:

8470-01-444-9906

part number: Point Blank Body Armor, Inc. #Z4311Y-SL

Medium Regular:

NSN:

8470-01-444-4455

part number: Point Blank Body Armor, Inc. #Z4311Y-MR

Medium Long:

NSN:

8470-01-444-9907

part number: Point Blank Body Armor, Inc. #Z4311Y-ML

Large Regular:

NSN:

8470-01-444-9908

part number: Point Blank Body Armor, Inc. #Z4311Y-LR

Large Long:

NSN:

8470-01-444-9911

part number: Point Blank Body Armor, Inc. #Z4311Y-LL

X-Large Regular:

NSN:

8470-01-444-9910

part number: Point Blank Body Armor, Inc. #Z4311Y-XLR

X-Large Long:

NSN:

8470-01-444-9912

part number: Point Blank Body Armor, Inc. #Z4311Y-XLL

outershell:

Small Regular:

NSN:

8470-01-445-3309

part number: Point Blank Body Armor, Inc. #Z4311L-SR

Small Long:

NSN:

8470-01-445-0994

part number: Point Blank Body Armor, Inc. #Z4311L-SL

Medium Regular:

NSN:

8470-01-445-0996

part number: Point Blank Body Armor, Inc. #Z4311L-MR

Medium Long:

NSN:

8470-01-445-0995

part number: Point Blank Body Armor, Inc. #Z4311L-ML

Large Regular:

NSN:

8470-01-445-0992

part number: Point Blank Body Armor, Inc. #Z4311L-LR

Large Long:

NSN:

8470-01-445-0998

part number: Point Blank Body Armor, Inc. #Z4311L-LL

X_Large Regular:

NSN:

8470-01-445-0993

part number: Point Blank Body Armor, Inc. #Z4311L-XLR

X-Large Long:

NSN:

8470-01-444-4458

part number: Point Blank Body Armor, Inc. #Z4311L-XLL

groin protector

ballistic panel:

NSN:

8470-01-444-5444

part number: Point Blank Body Armor, Inc. #Z4311AA

outershell

NSN:

8470-01-444-8202

part number: Point Blank Body Armor, Inc. #Z4311AA1