Main Pack
The MOLLE main pack has a volume of approximately 3,000 cubic inches.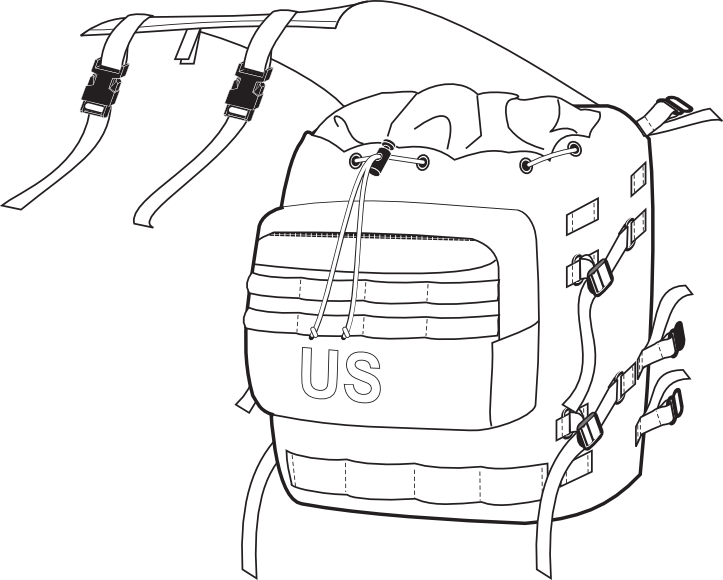 The front pocket on the main pack is designed to accommodate a claymore mine. The claymore mine pocket also contains a removable bandoleer which holds up to six additional thirty round magazines which can be slung across the shoulders.
The top flap of the main pack is a clear removable map case with a hook and loop closure. The clear side can be written on with a grease pencil.
The main pack contains a collar made of water resistant material which is secured with a cord and barrel lock.
Inside the main pack, against the back panel is a removable radio pocket designed to carry a SINCGARS radio.
Logistics
Main Pack:

8465-01-465-2289

Frame, black:

8465-01-465-2158

Shoulder Straps:

8465-01-465-2133

MOLLE II

woodland

Main Pack:

8465-01-465-2289

(unch.)
Frame:

8465-01-465-2158

(unch.)
Sholder Straps:

8465-01-465-2133

(unch.)
Molded Waist Belt, one size:

8465-01-465-2109

(the same as the small MOLLE molded waistbelt)

3-color desert

Main Pack:

8465-01-491-7519

Frame, tan:

8465-01-491-7449

Shoulder Straps:

8465-01-491-7513

Molded Waist Belt:

8465-01-492-7429
Improvement