Self-Inflating Sleeping Mat
The self-inflating sleeping mat is intended to insulate from the cold and moisture of bare ground when placed under a sleeping bag, and also to cushion its user from obtrusive objects when lying on the ground.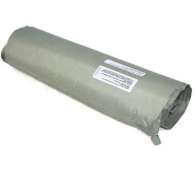 Description
The sleeping mat is 20 inches wide, 72 inches long and 1 inch thick at minimum. The mat is constructed of nylon fabric fully bonded to urethane foam.
The mat is self-inflated when the plastic air valve is opened. Deflation of the mat is achieved by pushing air out through the plastic valve.
Specification
Nomenclature
MAT, SLEEPING, SELF-INFLATING
Logistics
LIN: M24944

8465-01-393-6515