Level I: Lightweight Undershirt and Drawers
The undershirt and drawers are designed to be worn next to skin by itself and to transfer moisture from the skin to the outside of the fabric where it spreads rapidly for quicker evaporation.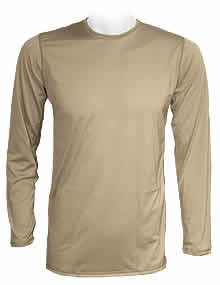 Description of Item
The undershirt has a crew neck, a contoured long tail in the back, and long sleeves with thumb holes to aid in donning multiple layers of clothing over the undergarment.
The drawers have an elastic waistband and access fly.
Flat-locked seams and cover-stitched hems have been added to reduce chaffing and increase comfort during movement.
Materials Used
The undershirt and drawers are constructed with Desert Sand 503 colored, 100% polyester, circular knit plaited jersey (e.g. Polartec Power Dry silkweight style 9042). The plaited circular knit construction provides multi-dimensional moisture management via both yarn denier differential face to back in the construction and permanent rendering of hydrophilic properties.
Specifications
Logistics
Undershirt, Desert Sand

X-Small

X-Short:

8415-01-547-6576

Short:

8415-01-547-6577

Regular:

8415-01-547-6580

Long:

8415-01-547-6584

X-Long:

8415-01-547-6610

XX-Long:

8415-01-547-6673

Small

X-Short:

8415-01-547-6678

Short:

8415-01-547-6680

Regular:

8415-01-538-7780

Long:

8415-01-547-6681

X-Long:

8415-01-547-6684

XX-Long:

8415-01-547-6687

Medium

X-Short:

8415-01-547-6689

Short:

8415-01-547-6690

Regular:

8415-01-538-7785

Long:

8415-01-547-6691

X-Long:

8415-01-547-6764

XX-Long:

8415-01-547-6767

Large

X-Short:

8415-01-547-6771

Short:

8415-01-547-6772

Regular:

8415-01-538-7786

Long:

8415-01-538-7787

X-Long:

8415-01-547-6775

XX-Long:

8415-01-547-6776

X-Large

X-Short:

8415-01-547-6781

Short:

8415-01-547-6783

Regular:

8415-01-538-7791

Long:

8415-01-538-7795

X-Long:

8415-01-547-6789

XX-Long:

8415-01-547-6791

XX-Large

X-Short:

8415-01-547-6794

Short:

8415-01-547-6799

Regular:

8415-01-547-6800

Long:

8415-01-547-6815

X-Long:

8415-01-547-7008

XX-Long:

8415-01-547-7118

Drawers, Desert Sand

PGC: 03269, LIN: D74128
X-Small

X-Short:

8415-01-547-8651

Short:

8415-01-547-8674

Regular:

8415-01-547-8675

Long:

8415-01-547-8676

X-Long:

8415-01-547-8678

XX-Long:

8415-01-547-8681

Small

X-Short:

8415-01-547-8682

Short:

8415-01-547-8683

Regular:

8415-01-538-8468

Long:

8415-01-547-8684

X-Long:

8415-01-547-8689

XX-Long:

8415-01-547-8690

Medium

X-Short:

8415-01-547-8693

Short:

8415-01-547-8697

Regular:

8415-01-538-8472

Long:

8415-01-547-8698

X-Long:

8415-01-547-8701

XX-Long:

8415-01-547-8702

Large

X-Short:

8415-01-547-8707

Short:

8415-01-547-8709

Regular:

8415-01-538-8474

Long:

8415-01-538-8477

X-Long:

8415-01-547-8712

XX-Long:

8415-01-547-8715

X-Large

X-Short:

8415-01-547-8717

Short:

8415-01-547-8723

Regular:

8415-01-538-8482

Long:

8415-01-538-8486

X-Long:

8415-01-547-8728

XX-Long:

8415-01-547-8732

XX-Large

X-Short:

8415-01-547-8737

Short:

8415-01-547-8743

Regular:

8415-01-547-8747

Long:

8415-01-547-8749

X-Long:

8415-01-547-8755

XX-Long:

8415-01-547-8759

Undershirt, Tan 499

X-Small

Short:

8415-01-641-1710

Regular:

8415-01-641-1713

Small

Short:

8415-01-641-1717

Regular:

8415-01-641-1719

Long:

8415-01-641-1724

Medium

Regular:

8415-01-641-1728

Long:

8415-01-641-1732

Large

Regular:

8415-01-641-1741

Long:

8415-01-641-1747

X-Large

Regular:

8415-01-641-1751

Long:

8415-01-641-1758

X-Long:

8415-01-641-1768

XX-Large

Regular:

8415-01-641-1770

Long:

8415-01-641-1774

X-Long:

8415-01-641-1776

Drawers, Tan 499

X-Small

Short:

8415-01-641-0860

Regular:

8415-01-641-0883

Small

Short:

8415-01-641-0885

Regular:

8415-01-641-0886

Long:

8415-01-641-0895

Medium

Regular:

8415-01-641-0905

Long:

8415-01-641-0911

Large

Regular:

8415-01-641-0912

Long:

8415-01-641-0913

X-Large

Regular:

8415-01-641-0914

Long:

8415-01-641-0916

X-Long:

8415-01-641-0918

XX-Large

Regular:

8415-01-641-0919

Long:

8415-01-641-0920

X-Long:

8415-01-641-0921
Similar Items
Reference
http://www.adsinc.com/catalog/apparel/clothing-systems/gen-iii-ecwcs-level-i-top