Level V: Soft Shell Jacket and Trousers
The soft shell jacket and trousers are designed for use in moderate to cold weather conditions as a soft shell layer combined with other base and insulative layers. The jacket and trousers provide light weight, low bulk and extreme comfort for movement.
Description of Item
The jacket features a two-way center-front zipper opening with a protective wind flap as well as an elastic cord in the bottom hem for adjustability. It is also constructed with a high collar containing a collapsible hood, Velcro closure sleeve pockets and two front zipper pockets with mesh linings to aid in ventilation, ventilation openings under the sleeves and Velcro fasteners to attach rank badges and name tags.
The trousers feature a zippered fly opening as well as two front pockets with Velcro fastener openings. The elastic waist has belt loops and provisions for suspenders as well as side-zipper openings for ease of donning over other layers. The leg openings feature a calf-high side-zipper and an elastic cuff. All zippers have a thong for ease of opening and closing when wearing gloves.
The jacket and trousers are available in UCP (class 1), OEF-CP (class 2), and OCP (class 3).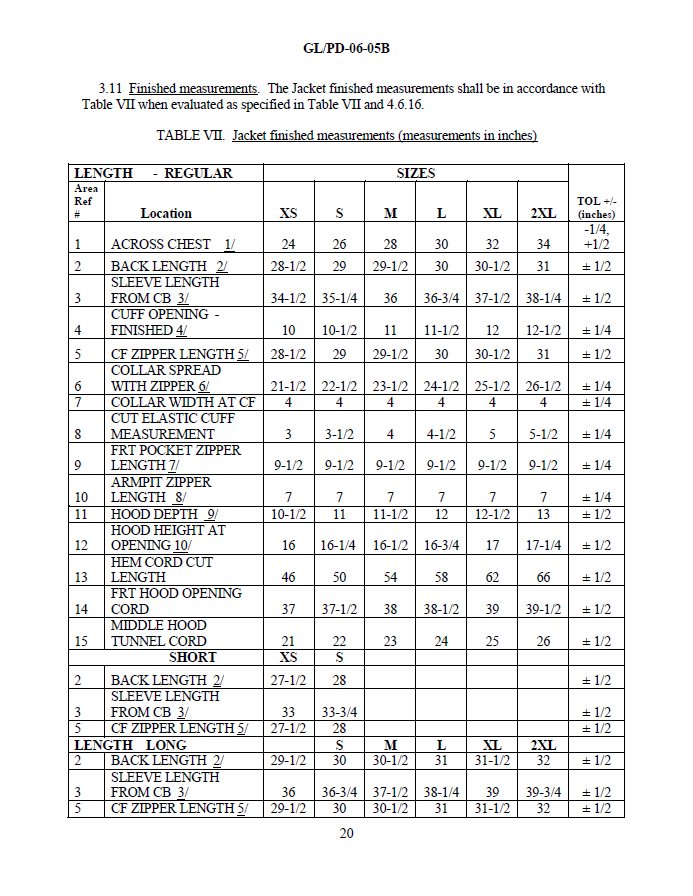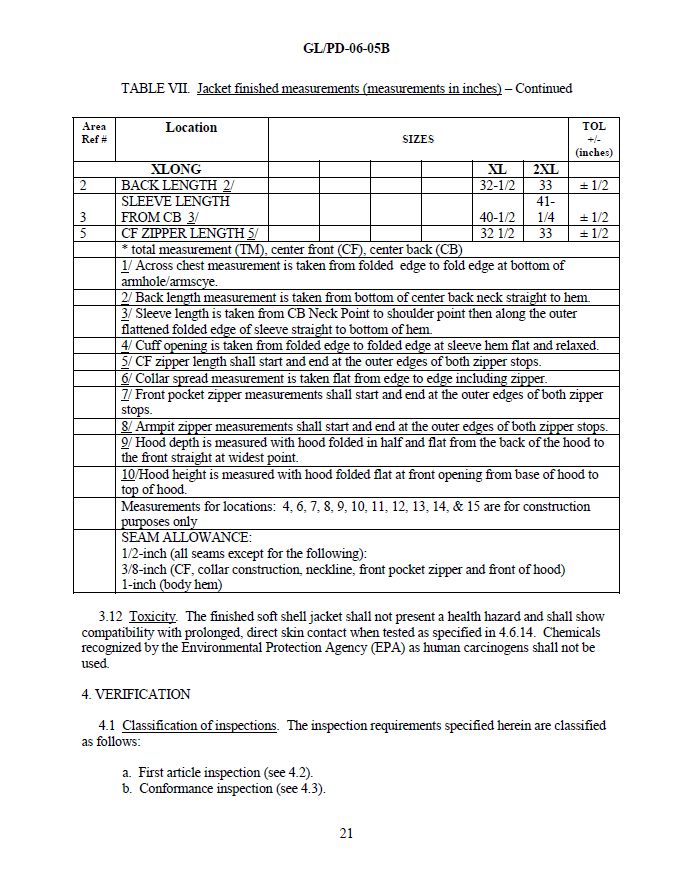 Materials Used
The cloth for type I is a plain weave, stretch, nylon and spandex cloth with water repellency (e.g. Nextec Application Inc., Style GLACIER).
The cloth for Type II is a twill weave, aramid, cellulosic, synthetic cloth with water repellency.
Specifications
Logistics
Class 1: UCP
Jacket, PGC: 03254, LIN: J14588
X-Short
Short
Regular
Long
X-Long
XX-Long
X-Small

8415-01-546-8854

8415-01-546-8888

8415-01-546-8890

8415-01-546-8892

8415-01-546-8894

8415-01-546-8897

Small

8415-01-546-8904

8415-01-546-8953

8415-01-538-6808

8415-01-546-8954

8415-01-546-8956

8415-01-546-8959

Medium

8415-01-547-6244

8415-01-547-6247

8415-01-538-6813

8415-01-547-6251

8415-01-547-6253

8415-01-547-6257

Large

8415-01-546-8960

8415-01-546-8969

8415-01-538-6819

8415-01-538-6823

8415-01-546-8973

8415-01-546-8974

X-Large

8415-01-546-8977

8415-01-546-8981

8415-01-538-6825

8415-01-538-6831

8415-01-546-8991

8415-01-546-8993

XX-Large

8415-01-546-9187

8415-01-546-9197

8415-01-546-9198

8415-01-546-9201

8415-01-546-9246

Trousers, PGC: 03255, LIN: T36245
X-Short
Short
Regular
Long
X-Long
XX-Long
X-Small

8415-01-546-9477

8415-01-546-9484

8415-01-546-9498

8415-01-546-9499

8415-01-546-9528

8415-01-546-9533

Small

8415-01-546-9705

8415-01-546-9706

8415-01-538-6764

8415-01-546-9707

8415-01-546-9709

8415-01-546-9712

Medium

8415-01-546-9719

8415-01-546-9721

8415-01-538-6766

8415-01-546-9724

8415-01-546-9728

8415-01-546-9733

Large

8415-01-546-9737

8415-01-546-9740

8415-01-538-6771

8415-01-538-6773

8415-01-546-9747

8415-01-546-9755

X-Large

8415-01-546-9821

8415-01-546-9880

8415-01-538-6875

8415-01-538-7008

8415-01-546-9883

8415-01-546-9887

XX-Large

8415-01-546-9896

8415-01-546-9908

8415-01-546-9912

8415-01-546-9917

8415-01-546-9921

8415-01-546-9929
Suspenders, Foliage Green 504
Short
Regular
Long
X-Long

8440-01-563-7025

8440-01-563-7026

8440-01-563-7027

8440-01-563-7029

Suspenders, Tan 499
Short
Regular
Long
X-Long

8440-01-591-2538

8440-01-591-2545

8440-01-591-2571

8440-01-591-2582

Class 2: OEF-CP
Jacket, PGC: 03649, LIN: E43299
Short
Regular
Long
X-Long
X-Small

8415-01-580-3650

8415-01-580-3660

Small

8415-01-580-3671

8415-01-580-3687

8415-01-580-3697

Medium

8415-01-580-3702

8415-01-580-3710

Large

8415-01-580-3706

8415-01-580-4011

X-Large

8415-01-580-4016

8415-01-580-3714

8415-01-580-3718

XX-Large

8415-01-580-3725

8415-01-580-3728

8415-01-580-3731

Trousers, PGC: 03651, LIN: E43549
Short
Regular
Long
X-Long
X-Small

8415-01-580-2962

8415-01-580-2969

Small

8415-01-580-2971

8415-01-580-2977

8415-01-580-2982

Medium

8415-01-580-2984

8415-01-580-2988

Large

8415-01-580-2990

8415-01-580-2991

X-Large

8415-01-580-3191

8415-01-580-3306

8415-01-580-3313

XX-Large

8415-01-580-3329

8415-01-580-3443

8415-01-580-3488

Class 2: OEF-CP, Type II: FR
Jacket, PGC: 03815, LIN: F05008
Short
Regular
Long
X-Long
X-Small

8415-01-598-8426

8415-01-598-8547

Small

8415-01-598-8549

8415-01-598-8550

8415-01-598-8551

Medium

8415-01-598-8554

8415-01-598-8557

Large

8415-01-598-8558

8415-01-598-8424

X-Large

8415-01-598-8564

8415-01-598-8567

8415-01-598-8569

XX-Large

8415-01-598-8570

8415-01-598-8599

8415-01-598-8600

Trousers, PGC: 03816, LIN: F05009;
Short
Regular
Long
X-Long
X-Small

8415-01-598-9323

8415-01-598-9325

Small

8415-01-598-9326

8415-01-598-9327

8415-01-598-9328

Medium

8415-01-598-9329

8415-01-598-9330

Large

8415-01-598-9331

8415-01-598-9332

X-Large

8415-01-598-9333

8415-01-598-9334

8415-01-598-9335

XX-Large

8415-01-598-9336

8415-01-598-9337

8415-01-598-9339

Class 3: OCP
Jacket, PGC: 04057
Short
Regular
Long
X-Long
X-Small

8415-01-641-1633

8415-01-641-1635

Small

8415-01-641-1637

8415-01-641-1638

8415-01-641-1639

Medium

8415-01-641-1640

8415-01-641-1641

Large

8415-01-641-1643

8415-01-641-1649

X-Large

8415-01-641-1650

8415-01-641-1651

8415-01-641-1652

XX-Large

8415-01-641-1653

8415-01-641-1654

8415-01-641-1655

Trousers, PGC: 04058
Short
Regular
Long
X-Long
X-Small

8415-01-641-1675

8415-01-641-1677

Small

8415-01-641-1679

8415-01-641-1680

8415-01-641-1682

Medium

8415-01-641-1683

8415-01-641-1685

Large

8415-01-641-1690

8415-01-641-1695

X-Large

8415-01-641-1697

8415-01-641-1701

8415-01-641-1703

XX-Large

8415-01-641-1704

8415-01-641-1705

8415-01-641-1706
Commercial Items
https://www.tennierindustries.com/product/layer-5-jacket/
https://www.tennierindustries.com/product/layer-5-trouser/
Similar Item
References
http://www.adsinc.com/catalog/apparel/clothing-systems/gen-iii-ecwcs-level-v-top
http://www.nextec.com/epic_military.html