Intermediate Cold/Wet Boots
In 1988, the U.S. Army began a program to develop a new combat boot for dismounted soldiers and marines operating in cold and wet environments where the mean monthly temperature ranges between 14°F and 68°F (-10° and +20° C). The new Intermediate Cold/Wet (ICW) Boot was designed to fill the protective void between the uninsulated U.S. Army Standard Combat Boot and the highly-insulated Extreme Cold Weather Vapor Barrier Boot.
Materials Used
The boots are made of leather, Texorist material and waterproofed five-layer laminated quilted package material which consists of microporous polytetrafluoroethylene film, nylon tricot knit cloth and three-layer quilted package which consists of nylon and Thinsulate B-200 or Thermolite 200 TFI.
Description of Item
The boots have grain-out leather upper, plain toe vamp, backstay, gusset tongue, box toe, waterproof bootie lining, a neoprene midsole and a full length rubber base outsole.
Specification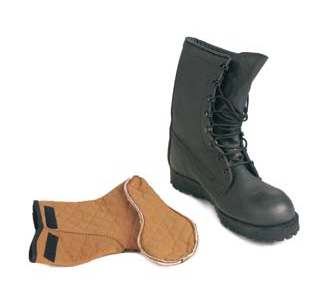 Improvement
In May 2001, a new version of the ICW boot was released with:
removable insulated liner (booties),
more breathable leather for the boot tongue,
a softer polyurethane mid-sole.
specification: CRFD/PD 99-09, 2000-04-19. [1]
Logistics
Boots, non-removable liner; PGC: 02207, TAMCN: V40072E, IDN: 09759D, LIN: B09054
Narrow
Regular
Wide
X-Wide
3

8430-01-349-3687

8430-01-349-3688

8430-01-349-3689

8430-01-349-3690

3.5

8430-01-349-3691

8430-01-349-3692

8430-01-349-3693

8430-01-349-3694

4

8430-01-349-3695

8430-01-349-3696

8430-01-349-3697

8430-01-349-3698

4.5

8430-01-349-3699

8430-01-349-3700

8430-01-349-3701

8430-01-349-3702

5

8430-01-349-3703

8430-01-349-3704

8430-01-349-3705

8430-01-349-3706

5.5

8430-01-349-3707

8430-01-349-3708

8430-01-349-3709

8430-01-349-3710

6

8430-01-349-3711

8430-01-349-3712

8430-01-349-3713

8430-01-349-3714

6.5

8430-01-349-3715

8430-01-349-3716

8430-01-349-3717

8430-01-349-3718

7

8430-01-349-3719

8430-01-349-3720

8430-01-349-3721

8430-01-349-3722

7.5

8430-01-349-3723

8430-01-349-3724

8430-01-349-3725

8430-01-349-3726

8

8430-01-349-3727

8430-01-349-3728

8430-01-349-3729

8430-01-349-3730

8.5

8430-01-349-3731

8430-01-349-3732

8430-01-349-3733

8430-01-349-3734

9

8430-01-349-3735

8430-01-349-3736

8430-01-349-3737

8430-01-349-3738

9.5

8430-01-349-3739

8430-01-349-3740

8430-01-349-3741

8430-01-349-3742

10

8430-01-349-3743

8430-01-349-3744

8430-01-349-3745

8430-01-349-3746

10.5

8430-01-349-3747

8430-01-349-3748

8430-01-349-3749

8430-01-349-3750

11

8430-01-349-3751

8430-01-349-3752

8430-01-349-3753

8430-01-349-3754

11.5

8430-01-349-3755

8430-01-349-3756

8430-01-349-3757

8430-01-349-3758

12

8430-01-349-3759

8430-01-349-3760

8430-01-349-3761

8430-01-349-3762

12.5

8430-01-349-3763

8430-01-349-3764

8430-01-349-3765

8430-01-349-3766

13

8430-01-349-3767

8430-01-349-3768

8430-01-349-3769

8430-01-349-3770

13.5

8430-01-349-3771

8430-01-349-3772

8430-01-349-3773

8430-01-349-3774

[pdf]
14

8430-01-349-3775

8430-01-349-3776

8430-01-349-3777

8430-01-349-3778

Boots, black, with removable booties; PGC: 02653
Narrow
Regular
Wide
X-Wide
3

8430-01-471-7473

8430-01-471-7475

8430-01-471-7476

8430-01-471-7477

3.5

8430-01-471-7480

8430-01-471-7501

8430-01-471-7699

8430-01-471-7700

4

8430-01-471-7702

8430-01-471-7703

8430-01-471-7707

8430-01-471-7708

4.5

8430-01-471-7827

8430-01-471-7828

8430-01-471-7829

8430-01-471-7830

5

8430-01-471-7831

8430-01-471-7832

8430-01-471-7833

8430-01-471-7834

5.5

8430-01-471-7835

8430-01-471-7849

8430-01-471-7853

8430-01-471-7957

6

8430-01-471-7959

8430-01-471-7963

8430-01-471-7964

8430-01-471-7965

6.5

8430-01-471-7968

8430-01-471-8181

8430-01-471-8182

8430-01-471-8183

7

8430-01-471-8184

8430-01-471-8185

8430-01-471-8187

8430-01-471-8191

7.5

8430-01-471-8210

8430-01-471-8211

8430-01-471-8212

8430-01-471-8217

8

8430-01-471-8218

8430-01-471-8219

8430-01-471-8220

8430-01-471-8221

8.5

8430-01-471-8223

8430-01-471-8224

8430-01-471-8226

8430-01-471-8227

9

8430-01-471-8228

8430-01-471-8230

8430-01-471-8231

8430-01-471-8234

9.5

8430-01-471-8235

8430-01-471-8238

8430-01-471-8239

8430-01-471-8243

10

8430-01-471-8244

8430-01-471-8245

8430-01-471-8246

8430-01-471-8247

10.5

8430-01-471-8248

8430-01-471-8250

8430-01-471-8251

8430-01-471-8254

11

8430-01-471-8261

8430-01-471-8262

8430-01-471-8264

8430-01-471-8265

11.5

8430-01-471-8267

8430-01-471-8268

8430-01-472-1600

8430-01-472-1601

12

8430-01-472-1602

8430-01-472-1603

8430-01-472-1604

8430-01-472-1605

12.5

8430-01-472-1606

8430-01-472-1607

8430-01-472-1608

8430-01-472-1609

13

8430-01-472-1612

8430-01-472-1613

8430-01-472-1614

8430-01-472-1615

13.5

8430-01-472-1616

8430-01-472-1618

8430-01-472-1620

8430-01-472-1619

14

8430-01-472-1621

8430-01-472-1622

8430-01-472-1623

8430-01-472-1625

14.5

8430-01-472-1626

8430-01-472-1627

8430-01-472-1629

8430-01-472-1631

15

8430-01-472-1633

8430-01-472-1634

8430-01-472-1635

8430-01-472-1636

15.5

8430-01-472-1637

8430-01-472-1638

8430-01-472-1639

8430-01-472-1641

16

8430-01-472-1642

8430-01-472-1644

8430-01-472-1645

8430-01-472-1648

16.5

8430-01-472-1651

8430-01-472-1652

8430-01-472-1654

8430-01-472-1655

Removable Booties; LIN: YY0003, PGC: 02645
Narrow/Regular
Wide/X-Wide
3

8430-01-472-1617

8335-01-472-1649

4

8430-01-472-1731

8335-01-472-1772

5

8430-01-472-1779

8335-01-472-1783

6

8335-01-472-1624

8335-01-472-1653

7

8430-01-472-1732

8335-01-472-1773

8

8430-01-472-1781

8335-01-472-1784

9

8335-01-472-1630

8335-01-472-1657

10

8430-01-472-1734

8335-01-472-1775

11

8430-01-472-1780

8335-01-472-1786

12

8335-01-472-1628

8335-01-472-1729

13

8430-01-472-1758

8335-01-472-1776

14

8430-01-472-1782

8335-01-472-1785

15

8335-01-472-1640

8335-01-472-1730

16

8430-01-472-1759

8335-01-472-1778

Boots, tan, with removable booties

(PD 04-24); LIN: YY1551
Narrow
Regular
Wide
X-Wide
3

8430-01-527-8179

8430-01-527-8180

8430-01-527-8181

8430-01-527-8182

3.5

8430-01-527-8183

8430-01-527-8184

8430-01-527-8185

8430-01-527-8186

4

8430-01-527-8188

8430-01-527-8187

8430-01-527-8189

8430-01-527-8190

4.5

8430-01-527-8193

8430-01-527-8192

8430-01-527-8195

8430-01-527-8194

5

8430-01-527-8196

8430-01-527-8200

8430-01-527-8201

8430-01-527-8202

5.5

8430-01-527-8206

8430-01-527-8207

8430-01-527-8208

8430-01-527-8209

6

8430-01-527-8210

8430-01-527-8211

8430-01-527-8212

8430-01-527-8213

6.5

8430-01-527-8215

8430-01-527-8218

8430-01-527-8219

8430-01-527-8221

7

8430-01-527-8222

8430-01-527-8223

8430-01-527-8232

8430-01-527-8233

7.5

8430-01-527-8234

8430-01-527-8236

8430-01-527-8239

8430-01-527-8241

8

8430-01-527-8266

8430-01-527-8268

8430-01-527-8267

8430-01-527-8269

8.5

8430-01-527-8270

8430-01-527-8271

8430-01-527-8272

8430-01-527-8273

9

8430-01-527-8275

8430-01-527-8274

8430-01-527-8278

8430-01-527-8277

9.5

8430-01-527-8280

8430-01-527-8283

8430-01-527-8288

8430-01-527-8289

10

8430-01-527-8292

8430-01-527-8293

8430-01-527-8294

8430-01-527-8557

10.5

8430-01-527-8558

8430-01-527-8559

8430-01-527-8560

8430-01-527-8561

11

8430-01-527-8562

8430-01-527-8563

8430-01-527-8564

8430-01-527-8565

11.5

8430-01-527-8568

8430-01-527-8570

8430-01-527-8573

8430-01-527-8575

12

8430-01-527-8579

8430-01-527-8577

8430-01-527-8581

8430-01-527-8583

12.5

8430-01-527-8584

8430-01-527-8586

8430-01-527-8588

8430-01-527-8589

13

8430-01-527-8590

8430-01-527-8594

8430-01-527-8595

8430-01-527-8602

13.5

8430-01-527-8603

8430-01-527-8611

8430-01-527-8604

8430-01-527-8605

14

8430-01-527-8606

8430-01-527-8197

8430-01-527-8225

8430-01-527-8578

14.5

8430-01-527-8627

8430-01-527-8629

8430-01-527-8630

8430-01-527-8631

15

8430-01-527-8633

8430-01-527-8632

8430-01-527-8634

8430-01-527-8635

15.5

8430-01-527-8636

8430-01-527-8637

8430-01-527-8643

8430-01-527-8645

16

8430-01-527-8644

8430-01-527-8646

8430-01-527-8670

8430-01-527-8672

16.5

8430-01-527-8673

8430-01-527-8675

8430-01-527-8677

8430-01-527-8678
References
"Improvement of the U.S. Army Intermediate Cold Wet Boot". 2001. [pdf]
"Changes to Boots". 2001. [html]
http://findarticles.com/p/articles/mi_m0IAV/is_3_90/ai_82009540/
http://usmilitary.about.com/library/milinfo/marinefacts/blwetboot.htm
MCO 3470.12 pdf
http://www.goreprotectivefabrics.com/remote/Satellite/Military-Army-Footwear/ICWB
Notes
↑ http://www.gao.gov/assets/370/365615.pdf