Improved Cold Weather Extended Gloves
Improved Cold Weather Extended Gloves are made in accordance with Outdoor Research Professional Modular Glove, part number 72189 for the shell, 72190 for the liner.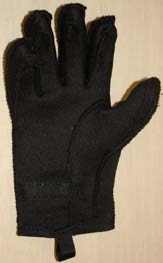 Features
Extra long gauntlet for additional thermal protection.
Boxed construction and curved shape provides added insulation and dexterity.
Tough, water-resistant and breathable 330D CORDURA GORE-TEX shell.
Textured AlpenGrip palm for excellent grip.
Thumb-seam guard improves glove life.
Cinch-straps at wrist and gauntlet ensure secure fit; pull loop for easy on/off.
Polartec fleece (1 layer over palm, 2 layers over back).
Nomenclature
GLOVE, COLD WEATHER, EXTENDED, IMPROVED
Logistics
Acquisition
https://www.fbo.gov/spg/DLA/J3/DSCP-C/Reference-Number-0013572771/listing.html
https://www.fbo.gov/notices/0696e8222e405d4e20e1c2d64853f432
https://www.fbo.gov/notices/7872b6760d24330185c088237ae1bf4d [pdf]
https://www.fbo.gov/spg/DLA/J3/DSCP-C/SPM1C1-12-R-0056/listing.html [docx]
https://www.fbo.gov/spg/DLA/J3/DSCP-C/SPE1C118Q0111/listing.html
References
http://military.activarmr.com/site/products-cwg.html
USMC Handwear APBI 2011 [pdf]
https://www.acklandsgrainger.com/images/catalog/2637.pdf
https://www.outdoorresearch.com/gov/us/en/pro-mod-gloves/p/2432950001007