Cold Weather Glove Inserts
The cold weather glove inserts are intended to be worn for added warmth with glove shells for cold weather.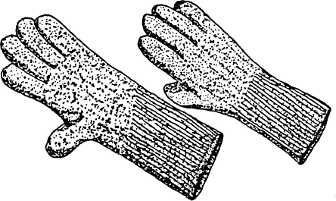 Description
The glove inserts can be worn on either hand. All parts of the glove, except the cuff, are seamless knit. The cuff is a true rib knit.
Material
The glove inserts are made of a blend of wool/nylon yarn.
Specification
Nomenclature
GLOVE-INSERTS, WOOL, M-1949
GLOVE INSERTS, COLD WEATHER
Logistics
Green 483 (replaces Olive Green 208)

size 1:

8415-00-682-6673

size 2:

8415-00-682-6674

size 3:

8415-00-682-6575

size 4:

8415-00-682-6576

size 5:

8415-00-682-6577

Black 357 (replaces Grey 1155, class 2 of A-A-55119)

size 1:

8415-01-466-3174

size 2:

8415-01-466-3180

size 3:

8415-01-466-3176

size 4:

8415-01-466-3177

size 5:

8415-01-466-3179

Foliage Green 504; LIN: J62858

size 1:

8415-01-527-4653

size 2:

8415-01-527-4655

size 3:

8415-01-527-4664

size 4:

8415-01-527-4665

size 5:

8415-01-527-4666
Acquisition
https://www.fbo.gov/spg/DLA/J3/DSCP-C/SPO100-02-R-4075/listing.html
https://www.fbo.gov/spg/DLA/J3/DSCP-C/SP0100-04-R-0052/listing.html
https://www.fbo.gov/spg/DLA/J3/DSCP-C/SPM1C1-06-R-0097/listing.html
Similar Item
Improvement