Light Duty Gloves
The light duty gloves are worn to protect the hands of personnel performing light work. When required, they may also be worn for mosquito pretection and may be worn over the chemical protective (CP) gloves to protect the CP gloves from abrasion and cuts. They may be worn alone or, for additional warmth under cold conditions, may be worn with the wool inserts.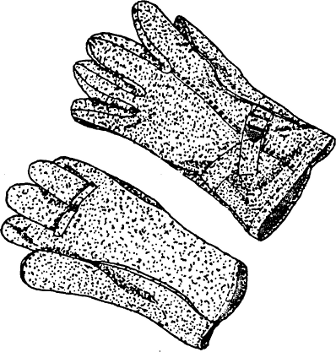 Materials Used
The gloves are made of full grain, chrome tanned leather. The leather is treated with a water resistant compound.
Description of Item
The gloves are black, slip-on style, all leather, with a buckle strap of black tape on back of glove for wrist closure. The gloves are either a one-piece back and front or a two-piece back design.
Specifications
Nomenclature
GLOVE-SHELLS, LEATHER, M-1949
GLOVES, MEN'S AND WOMEN'S, LIGHT DUTY
Logistics
size 1:

8415-00-634-4794

size 2:

8415-00-634-4793

size 3:

8415-00-269-5700

size 4:

8415-00-269-5701

size 5:

8415-00-269-5702
Improvement
Reference
"Evaluation of the Interim Intermediate Cold/Wet Glove System for Cold Weather Use". Appendix B. 1989. [pdf]