Individual Tactical Load Bearing Vest
The vest is designed to transport the individual's fighting load. It is a one-size-fits-all item constructed of very strong nylon fabric and webbing.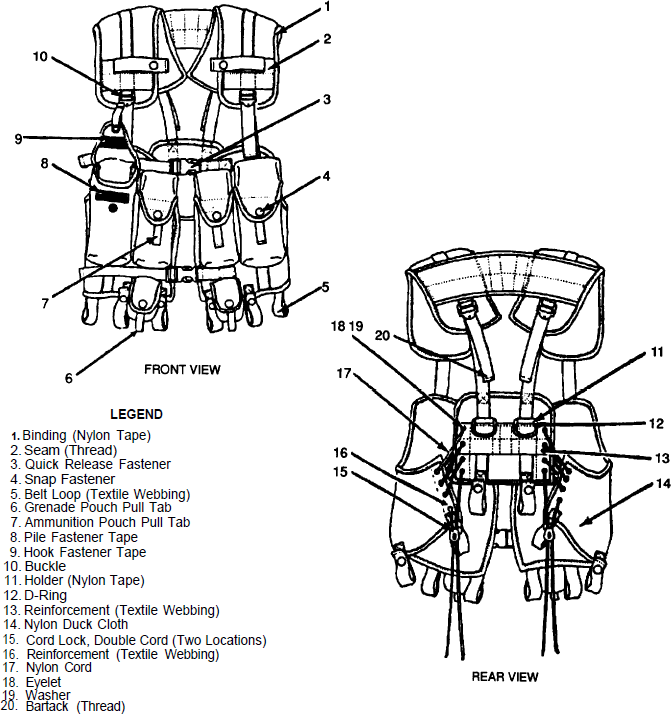 Materials Used
The vest is made of a lightweight nylon fabric with foam padding in the shoulder straps. Two plastic quick release buckles are used to secure it in front.
Concept of Use
The vest is intended to be worn with the standard equipment belt. The belt is attached to the belt loops at the bottom of the vest.
Description of Item
The vest consists of the suspenders, a left, right and back panel that are connected with adjustable drawcords in a corset lacing system secured by cord locks. The vest weighs 1.8 pounds empty. It provides space for six 30 round magazines in four permanently attached ammunition pockets (two each in the outside pockets, and one each in the inside pockets) and two fragmentation grenades in two grenade pockets.
In the mid-1990s, the ITLBV was redesigned due to problems with ventilation and redesignated as Enhanced Tactical Load Bearing Vest (ETLBV) having slanted ammunition pockets attached on mesh panels.
Specification
Nomenclature
VEST, TACTICAL LOAD BEARING
VEST, TACTICAL LOAD BEARING (ENHANCED)
Logistics