Advanced Combat Helmet
The Advanced Combat Helmet (ACH) is a modular system that weighs less, fits better, and is more comfortable than its predecessor, the PASGT helmet.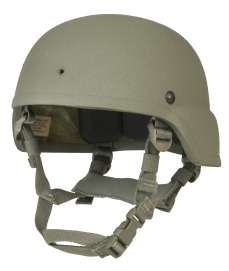 Modular, flame-retardant, and moisture-resistant pads act as the suspension system between the wearer's head and the helmet. The cotton/polyester chin strap, a four-point design, allows for quick adjustment and includes a new Ballistic NAPE Protective Pad for the neck that adds ballistic protection between the bottom of the helmet shell and the top of the Interceptor Body Armor collar. The edge of the ACH shell is finished with rubber trim.
Specifications
Instruction
Logistics
Foliage Green, 3/4" pad suspension system, 4-point chin strap, H Harness, predrilled one hole for NVG Bracket

Small:

8470-01-529-6302

Medium:

8470-01-529-6329

Large:

8470-01-529-6344

X-Large:

8470-01-529-6365

XX-Large:

8470-01-558-8622
Improvement
References
http://peosoldier.armylive.dodlive.mil/2012/02/08/equipment-piece-of-the-week-advanced-combat-helmet-ach/
http://peosoldier.armylive.dodlive.mil/2011/12/12/equipment-piece-of-the-week-combat-helmet-suspension-system/
http://peosoldier.armylive.dodlive.mil/2010/09/13/ach-pads/
http://peosoldier.armylive.dodlive.mil/2011/12/13/new-helmet-pads-provide-better-fit-more-comfort/
http://www.gentexcorp.com/default.aspx?pageid=2692
Notes