Small Arms Protective Insert
The Small Arms Protective Inserts (SAPI) upgrade the outer tactical vest (OTV) to provide additional protection from rifle-fired threats.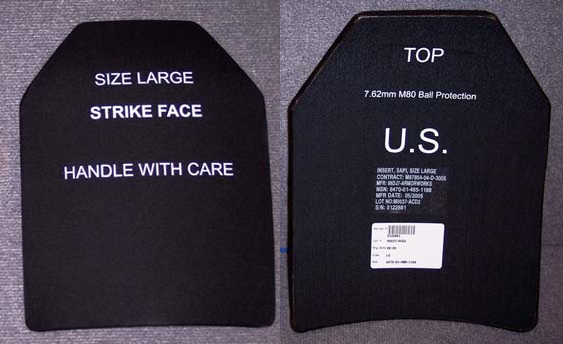 Description
The SAPI plates consist of a ceramic plate backed by multiple layers of a non-woven fabric film. The combination of materials produces a plate that can defeat rifle-fired rounds (5.56mm and 7.62mm) while minimizing back face signature. A protective covering prolongs plate life and minimizes spall in the event of a ballistic impact. The complex curvature of the plate optimizes anthropometric compatibility when worn in the front or back pocket of the OTV.
Specification
Logistics
assigned at

1999-05-21

X-Small:

8470-01-465-1181

Small:

8470-01-465-1184

Medium:

8470-01-465-1187

Large:

8470-01-465-1188

X-Large:

8470-01-465-1189

assigned at

2002-06-06

X-Small:

8470-01-497-8701

Small:

8470-01-497-8709

Medium:

8470-01-497-8710

Large:

8470-01-497-8712

X-Large:

8470-01-497-8714
Acquisition
http://fbodaily.com/cbd/archive/2000/09(September)/29-Sep-2000/84sol001.htm
https://www.fbo.gov/spg/DLA/J3/DSCP-C/SP0100-03-R-0007/listing.html
https://www.fbo.gov/spg/DLA/J3/DSCP-C/SP0100-04-R-0069/listing.html
https://www.fbo.gov/spg/DON/USMC/Contracts_Office_CTQ8/Reference-Number-M67854-04-R-3005/listing.html
Improvement
Reference
SAPI factsheet @NSRDEC [2003]