Fragmentation Protective Body Armor Vest
The PASGT body armor vest is intended for use by ground troops for protection against low velocity projectiles and grenade fragments.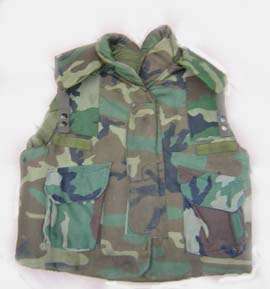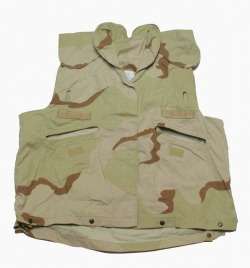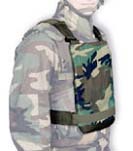 Description
The vest covers the upper torso and consists of a ballistic filler of 14 oz/sq.yd (475 g/sq.m) water repellent treated Kevlar fabric. The inner and outer shell, shoulder pads and front closure flap of the vest is water repellent treated 8 oz/sq.yd (271 g/sq.m) ballistic nylon cloth. The layer which makes up the inner shell of the vest is olive green and the layer which is the outer cover of the vest is camouflage printed.
The Kevlar ballistic filler in the back is made in four sections. The three upper sections slide over each other and over the lower back section to allow for any changes in body dimensions associated with various movements.
The front closure is hook and pile fastener tape. The side overlaps are made flexible through the use of sewn-in 1 1/2 inch (3.81 cm) wide elastic webbing. The vest also has a 3/4 collar, articulating shoulder pads, two front pockets, two grenade hangers, and rifle butt, patches at the front shoulder area.
Specification
Enhancement
Interim Small Arms Protective Overvest (ISAPO): The PASGT vest can be upgraded to stop 7.62-mm rounds by teaming it with the ISAPO. However, the combined weight of the two systems tilts the scales to 25.1 pounds.
Logistics
Vest; TAMCN: C34952E, IDN: 09706A , LIN: A92145

X-Small:

8470-01-092-8497

Small:

8470-01-092-8498

Medium:

8470-01-092-8499

Large:

8470-01-092-8500

X-Large:

8470-01-092-8501

[pdf]
XX-Large:

8470-01-424-5392

3X-Large:

8470-01-425-9686

4X-Large:

8470-01-425-9734

Cover, desert camouflage; TAMCN: V41802F, IDN: 09879C, LIN: C28038
Improvement
References
http://www.natick.army.mil/about/pao/pubs/warrior/99/septoct/bitingthebullet.htm
http://www.fas.org/man/dod-101/sys/land/pasgtv.htm
http://www.fas.org/man/dod-101/sys/land/isapo.htm