Marine Corps All Purpose Liner
The all purpose liner (APL) is an improved poncho liner with a zipper closure.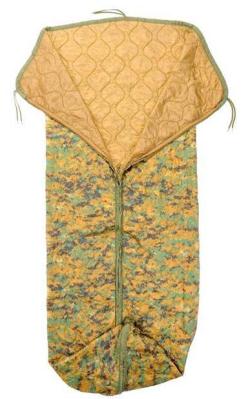 Features
The APL has
a zipper attached from the bottom of the liner to the top on the side with the top of the liner being open when fully closed,
double-sided zipper pulls at the top and bottom of the liner which allows the liner to be opened/closed from inside and outside the liner and to form a tube by leaving the bottom open, and
a woodland MARPAT on one side and solid coyote brown on the other side.
The APL can be used separately, or as an inside liner to the sleeping bag of the 3 Season Sleep System for additional warmth and comfort and to include the capability of emergency egress when combined with the sleeping bag.
Nomenclature
LINER, WET WEATHER PONCHO (ALL PURPOSE LINER)
Logistics
References
http://www.breachbangclear.com/usmc-does-something-smart/
PM ICE Product Information Sheet [2018]
https://www.performancedays.com/files/performancedays/content/exhibitors/documents/306/Climashield_military_brochure.pdf