Parka and Trousers (Marine Corps)
The 2nd generation parka and trousers incorporates features requested by Marines. Improvements over the original parka and trousers include a two-way entry pocket design, water channels to protect critical area from potential leakage, removal of the taffeta nylon lining to reduce cost, improved breathability, a roll and stow hood, and a Cordura nylon reinforcement of the elbow and knee areas to improve durability.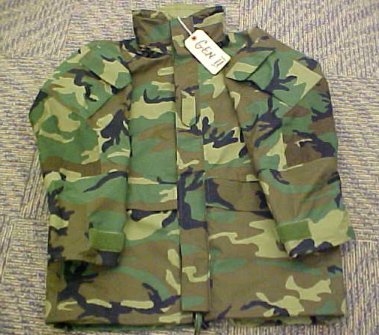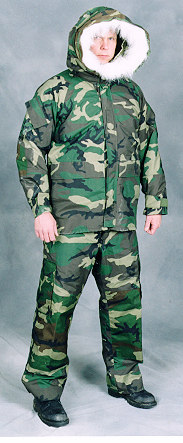 Description of Item
The parka has two side access hand warming pockets, two cargo pockets, two side access breast pockets, two upper sleeve pockets, and a roll and stow hood that fits into the collar. It also features water shedding slide fasteners and zippered armpit vents. The parka is also designed with an optional hood for extreme cold weather, which attaches to the parka collar by hook and pile tape and interfaces with the fur ruff, a component of the ECWCS.
The trousers feature suspender attachments, belt loops, two side leg cargo pockets, and knee high zippers for easy donning and doffing while wearing boots.
Materials Used
The material is a tri-laminate using a waterproof, vapor permeable membrane laminated between two nylon knits. Both garments come in woodland camouflage.
Nomenclature
PARKA, COLD/WET WEATHER, CAMOUFLAGE
TROUSERS, COLD/WET WEATHER, CAMOUFLAGE
Logistics
Parka

, Woodland; PGC: 02436, TAMCN: C5652
X-Short
Short
Regular
Long
X-Small

8415-01-421-9245

8415-01-421-9248

8415-01-421-9250

8415-01-421-9254

Small

8415-01-421-9255

8415-01-421-9257

8415-01-421-9261

8415-01-421-9263

Medium

8415-01-421-9265

8415-01-421-9267

8415-01-421-9270

8415-01-421-9272

Large

8415-01-421-9273

8415-01-421-9276

8415-01-421-9275

X-Large

8415-01-421-9279

8415-01-421-9280

Trousers, Woodland

; PGC: 02437
X-Short
Short
Regular
Long
X-Small

8415-01-451-2733

8415-01-451-2790

8415-01-451-2807

8415-01-451-2808

Small

8415-01-451-2817

8415-01-451-2917

8415-01-451-2925

8415-01-451-2934

Medium

8415-01-451-2940

8415-01-451-2954

8415-01-451-3183

8415-01-451-3193

Large

8415-01-451-3204

8415-01-451-3205

8415-01-451-3206

X-Large

8415-01-451-3251

8415-01-451-3260

Optional Hood; PGC: 02438
X-Small

8415-01-421-9283

Small

8415-01-425-5368

Medium

8415-01-425-5373

Large

8415-01-425-5376

X-Large

8415-01-425-5379
Similar Item
Improvement
References