Parka and Trousers (Army)
The parka and trousers replace the original parka and trousers in the Army.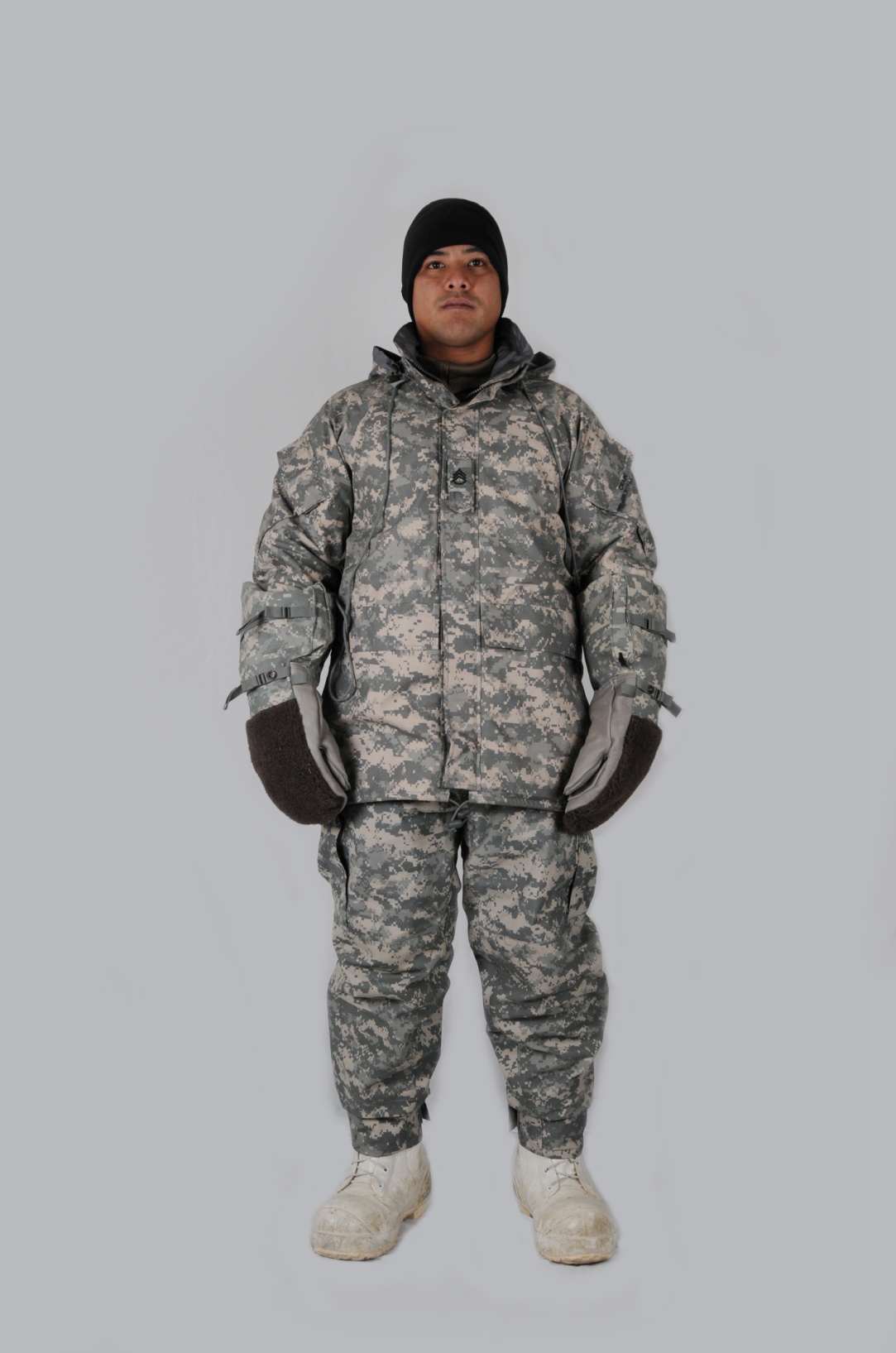 Description of Item
The parka is camouflage, with a drawcord closing hood, two-way closure front entry, slide fastener underarm openings, fastener tape adjustable wrist tabs, elasticized windskirt bottom, is the same basic design as the Marine Corps Gen II ECWCS Parka. The parka is also designed with an optional hood for extreme cold weather, which attaches to parka by hook and pile tape and interfaces with the fur ruff, a component of the ECWCS.
The trousers are camouflage to the outside with an elastic drawcord at the waist, slide fastener fly opening and ankle openings with fastener tape adjustment tabs.
Materials Used
The basic material for the parka and trousers is a waterproof and moisture vapor permeable cloth conforming to MIL-DTL-31011, type III, class 4. The color of the face side of the base cloth is Universal Camouflage. The color of the back side of the base cloth is Foliage Green 504.
Specifications
Nomenclature
PARKA, COLD WEATHER, UNIVERSAL CAMOUFLAGE
PARKA, COLD/WET WEATHER, UNIVERSAL CAMOUFLAGE
TROUSERS, COLD WEATHER, UNIVERSAL CAMOUFLAGE
Logistics
Parka, UCP

; PGC: 03046, LIN: P69699
X-Short
Short
Regular
Long
X-Small

8415-01-526-9168

8415-01-526-9170

8415-01-526-9172

8415-01-526-9173

Small

8415-01-526-9174

8415-01-526-9175

8415-01-526-9176

8415-01-526-9190

Medium

8415-01-526-9178

8415-01-526-9180

8415-01-526-9181

8415-01-526-9182

Large

8415-01-526-9183

8415-01-526-9184

8415-01-526-9185

X-Large

8415-01-526-9186

8415-01-526-9187

XX-Large

8415-01-545-5512

8415-01-545-5544

Trousers, UCP

; PGC: 03047, LIN: X36109
X-Short
Short
Regular
Long
X-Small

8415-01-526-9039

8415-01-526-9044

8415-01-526-9043

8415-01-526-9048

Small

8415-01-526-9046

8415-01-526-9050

8415-01-526-9053

8415-01-526-9054

Medium

8415-01-526-9059

8415-01-526-9060

8415-01-526-9062

8415-01-526-9065

Large

8415-01-526-9064

8415-01-526-9069

8415-01-526-9068

X-Large

8415-01-526-9072

8415-01-526-9070

XX-Large

8415-01-545-5611

8415-01-545-5614

Optional Hood
X-Small

8415-01-526-9900

Small

8415-01-526-9902

Medium

8415-01-526-9903

Large

8415-01-526-9904

X-Large

8415-01-526-9905
Improvement
References
http://www.tennierindustries.com/gen-II-ecwcs.html
https://www.epropper.com/p-51-gen-ii-ecwcs-parka-us.aspx
https://www.epropper.com/p-89-gen-ii-ecwcs-trouser-us.aspx
http://www.goreprotectivefabrics.com/remote/Satellite/Military-Army-Outerwear/ECWCS-2G