Extended Cold Weather Parka and Trousers
The extended cold weather parka and trousers are new ECWCS development items. The parka and trousers serve as the windproof, waterproof layer to protect the first three layers in the system.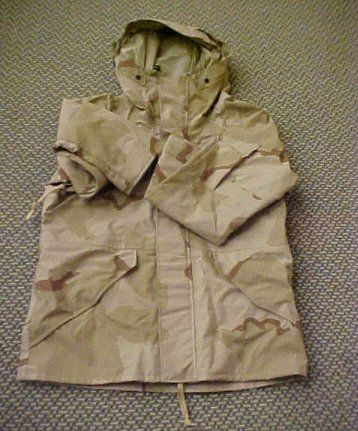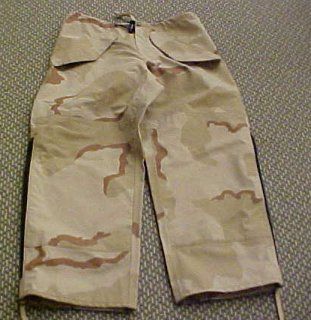 Description of Item
The parka has an integral hood, two breast inside map pockets (which can be opened without unzipping the parka), two large lower cargo pockets, an upper left sleeve pocket with a tape fastener closure flap and a two-way, full-front zipper to provide full face protection, leaving only the eyes uncovered. The underarms also have a slide fastener to provide ventilation. The parka is fully lined with a windskirt. There are elastic drawcords at the waist and hem, and a nylon woven tape drawcord with barrel locks at the hood. Nylon woven tape is also used for the neck hanger loop. Nylon hook and pile fastener tapes are located at the wrist tabs to allow for adjustment. Snap fasteners are located at the Insignia tab along the full front closure on the overlay of the slide fastener, on the windskirt and pockets.
The parka hood was modified to interface with an attachable synthetic fur ruff.
The trousers have seat and knee patches, pass-through pockets, and gusseted leg openings to allow easy donning and doffing without removing the boots. The trousers have an elastic drawcord with barrel lock at the waist. Nylon hook and pile fastener tapes are located at the ankle tabs to allow for adjustment. Slide fasteners are located on the legs and front fly. The trousers have nylon tape suspender loops. Snap fasteners are located above the front fly slide fastener and on the pockets.
Materials Used
The parka and trousers are made of three layer nylon and polytetrafluoroethylene (PTFE) laminate material. The PTFE in the garment has the property to repel water while allowing perspiration to be expelled.
Specifications
Nomenclature
PARKA, COLD WEATHER, CAMOUFLAGE
TROUSERS, COLD WEATHER, CAMOUFLAGE
PARKA, COLD WEATHER, DESERT CAMOUFLAGE
TROUSERS, COLD WEATHER, DESERT CAMOUFLAGE
PARKA, EXTENDED COLD WEATHER, CAMOUFLAGE
TROUSERS, EXTENDED COLD WEATHER, CAMOUFLAGE
Instruction
"Formula for Repelling Water". PS Magazine, Issue 622, Sept. 2004. p.51-53. [pdf]
Logistics
Parka

, Woodland Camouflage; PGC: 01918, LIN: P69699
X-Short
Short
Regular
Long
X-Small

8415-01-228-1306

8415-01-228-1307

8415-01-228-1308

8415-01-228-1309

Small

8415-01-228-1310

8415-01-228-1311

8415-01-228-1312

8415-01-228-1313

Medium

8415-01-228-1314

8415-01-228-1315

8415-01-228-1316

8415-01-228-1317

Large

8415-01-228-1318

8415-01-228-1319

8415-01-228-1320

X-Large

8415-01-228-1321

8415-01-228-1322

Trousers, Woodland Camouflage

; PGC: 01917, LIN: T35375
X-Short
Short
Regular
Long
X-Small

8415-01-228-1336

8415-01-228-1337

8415-01-228-1338

8415-01-228-1339

Small

8415-01-228-1340

8415-01-228-1341

8415-01-228-1342

8415-01-228-1343

Medium

8415-01-228-1344

8415-01-228-1345

8415-01-228-1346

8415-01-228-1347

Large

8415-01-228-1348

8415-01-228-1349

8415-01-228-1350

X-Large

8415-01-228-1351

8415-01-228-1352

Parka

, Desert Camouflage; PGC: 02637, LIN: P69767
X-Short
Short
Regular
Long
X-Small

8415-01-470-2065

8415-01-470-2066

8415-01-470-2068

8415-01-470-2070

Small

8415-01-470-2074

8415-01-470-2076

8415-01-470-1944

8415-01-470-1949

Medium

8415-01-470-1951

8415-01-470-1952

8415-01-470-1953

8415-01-470-1954

Large

8415-01-470-2818

8415-01-470-2828

8415-01-470-2833

X-Large

8415-01-470-2841

8415-01-470-2844

Trousers, Desert Camouflage

; PGC: 02671, LIN: T36177
X-Short
Short
Regular
Long
X-Small

8415-01-475-3633

8415-01-475-3657

8415-01-475-3660

8415-01-475-3661

Small

8415-01-475-3664

8415-01-475-3666

8415-01-475-3681

8415-01-475-3667

Medium

8415-01-475-3684

8415-01-475-3687

8415-01-475-3697

8415-01-475-3740

Large

8415-01-475-3750

8415-01-475-3751

8415-01-475-3766

X-Large

8415-01-475-3767

8415-01-475-3768
Commercial Items
https://www.tennierindustries.com/product/gen-1-jacket/
https://www.tennierindustries.com/product/gen-1-trouser/
Replacement
References
http://www.goreprotectivefabrics.com/remote/Satellite/Army/ECWCS