Level VI: Extreme Cold/Wet Weather Jacket and Trousers
The jacket and trousers are designed for use in cold, wet conditions alternating between freezing and thawing as a hard shell layer combined with other base and insulative layers. The jacket and trousers provide a lightweight, completely waterproof, windproof and breathable level of protection against the elements.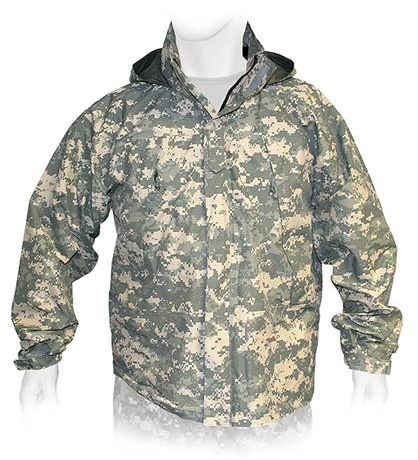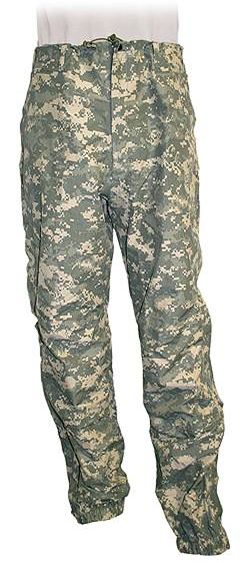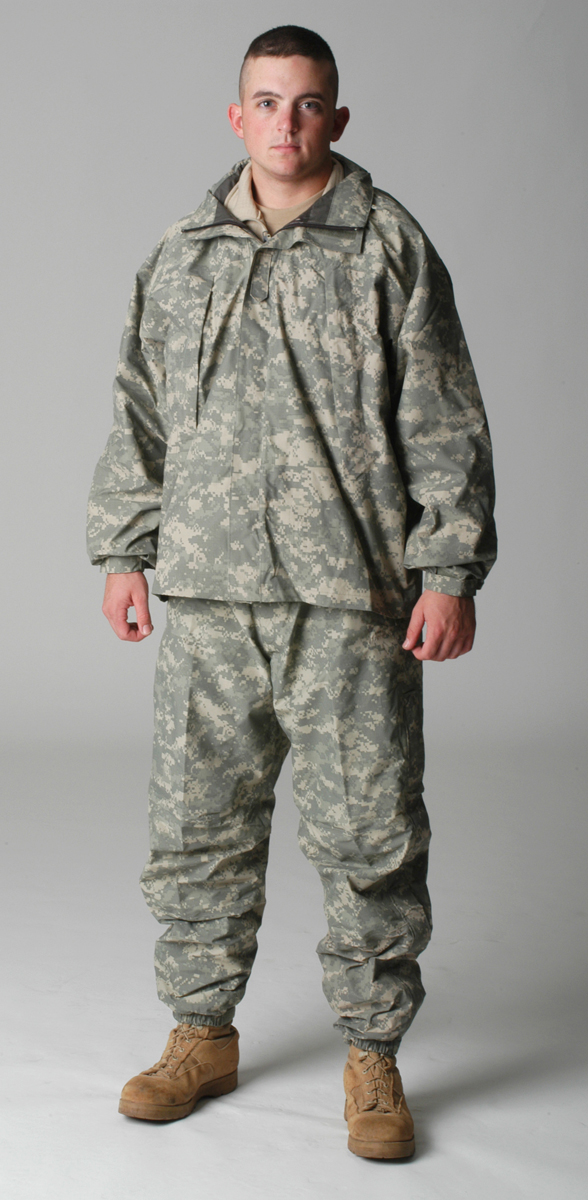 Description of Item
The jacket features a center-front slide fastener with two slide fastener and two pass-through front middle pockets, a visored hood with hook and loop for back adjustability, an elastic cord-lock tunnel in the front and a hide-away collar which the hood can be stowed in; and elastic cuffed sleeves with a hook and loop tab for further adjustability.
The trousers feature a fly slide fastener, two pass through pockets with hook and loop flaps for water protection, 3/4 leg (starting from the bottom) side zippers with a hook and loop flap cover for easy access when donning over other layers or boots and elastic cuffs with a strap for adjustability. The waist is constructed with an elastic cord with barrel locks for adjustability, belt loops and provisions for suspenders.
Materials Used
The jacket and trousers are constructed with two-layer GORE-TEX fabric developed based on the technology of GORE-TEX Paclite Shells.
Finished Measurement
Jacket, Medium-Regular (inches)

Tolerance: -1/4, +1/2
Chest: 52
Sweep: 51
Back Length: 30
Sleeve Inseam: 23 3/4
Sleeve Outseam: 25 1/2
Sleeve Underarm Width: 11 3/4
Collar Height at Centar Back: 4
Collar Height at Centar Front: 2 1/2
Hood Width: 9 3/4
Hood Height: 14

Trousers, Medium-Regular (inches)

Tolerance: -1/4, +1/2
Waist Circumference: 38
Inseam Length: 32
Specifications
Logistics
Class 1: UCP
Jacket, LIN: J23458
X-Short
Short
Regular
Long
X-Long
XX-Long
X-Small

8415-01-547-5736

8415-01-547-5739

8415-01-547-5741

8415-01-547-5752

8415-01-547-5755

8415-01-547-5760

Small

8415-01-547-5761

8415-01-547-5763

8415-01-538-7001

8415-01-547-5765

8415-01-547-5766

8415-01-547-6203

Medium

8415-01-547-5767

8415-01-547-5768

8415-01-538-7012

8415-01-547-5797

8415-01-547-5809

8415-01-547-5813

Large

8415-01-547-5886

8415-01-547-5964

8415-01-538-7761

8415-01-538-7764

8415-01-547-5967

8415-01-547-5968

X-Large

8415-01-547-5970

8415-01-547-6145

8415-01-538-7767

8415-01-538-7769

8415-01-547-6146

8415-01-547-6212

2X-Large

8415-01-547-6195

8415-01-547-6196

8415-01-547-6224

8415-01-547-6226

8415-01-547-6229

8415-01-547-6232

Trousers, LIN: T36205
X-Short
Short
Regular
Long
X-Long
X-Long
X-Small

8415-01-547-3654

8415-01-547-3662

8415-01-547-3674

8415-01-547-3683

8415-01-547-3688

8415-01-547-3954

Small

8415-01-547-4168

8415-01-547-4171

8415-01-538-6672

8415-01-547-4177

8415-01-547-4180

8415-01-547-4183

Medium

8415-01-547-4188

8415-01-547-4193

8415-01-538-6680

8415-01-547-4194

8415-01-547-4201

8415-01-547-4205

Large

8415-01-547-4207

8415-01-547-4209

8415-01-538-6677

8415-01-538-6679

8415-01-547-4211

8415-01-547-4212

X-Large

8415-01-547-4227

8415-01-547-4231

8415-01-538-6681

8415-01-538-6683

8415-01-547-4234

8415-01-547-4236

2X-Large

8415-01-547-4244

8415-01-547-4246

8415-01-547-4248

8415-01-547-4250

8415-01-547-4303

8415-01-547-4305
Class 2: OEF-CP
Jacket, LIN: E42924
Short
Regular
Long
X-Long
X-Small

8415-01-580-2753

8415-01-580-2761

Small

8415-01-580-2776

8415-01-580-2778

8415-01-580-2780

Medium

8415-01-580-2782

8415-01-580-2788

Large

8415-01-580-2854

8415-01-580-2856

X-Large

8415-01-580-2861

8415-01-580-2904

8415-01-580-2917

2X-Large

8415-01-580-2926

8415-01-580-2928

8415-01-580-2941

Trousers, LIN: E43367
Short
Regular
Long
X-Long
X-Small

8415-01-580-2183

8415-01-580-2190

Small

8415-01-580-2318

8415-01-580-2323

8415-01-580-2351

Medium

8415-01-580-2468

8415-01-580-2493

Large

8415-01-580-2497

8415-01-580-2502

X-Large

8415-01-580-2504

8415-01-580-2513

8415-01-580-2518

2X-Large

8415-01-580-2525

8415-01-580-2532

8415-01-580-2538

Class 3: OCP
Jacket, PGC: 04051
Short
Regular
Long
X-Long
X-Small

8415-01-641-0778

8415-01-641-0785

Small

8415-01-641-0788

8415-01-641-0806

8415-01-641-0808

Medium

8415-01-641-0818

8415-01-641-0823

Large

8415-01-641-0824

8415-01-641-0827

X-Large

8415-01-641-0829

8415-01-641-0831

8415-01-641-0832

2X-Large

8415-01-641-0840

8415-01-641-0841

8415-01-641-0843

Trousers, PGC: 04052
Short
Regular
Long
X-Long
X-Small

8415-01-641-1787

8415-01-641-1789

Small

8415-01-641-1791

8415-01-641-1793

8415-01-641-1794

Medium

8415-01-641-1799

8415-01-641-1800

Large

8415-01-641-1801

8415-01-641-1802

X-Large

8415-01-641-1803

8415-01-641-1804

8415-01-641-1806

2X-Large

8415-01-641-1807

8415-01-641-1809

8415-01-641-1815
Class 4: Desert MARPAT

Jacket, PGC: 04161[1][2]

X-Small:

Short:

8415-01-653-1523

Regular:

8415-01-653-1525

Small:

Short:

8415-01-653-1526

Regular:

8415-01-653-1531

Long:

8415-01-653-1532

Medium:

Short:

8415-01-653-1593

Regular:

8415-01-653-1665

Long:

8415-01-653-1668

Large:

Regular:

8415-01-653-1669

Long:

8415-01-653-1673

X-Large:

Regular:

8415-01-653-1674

Long:

8415-01-653-1676

X-Long:

8415-01-653-1679

2X-Large:

Regular:

8415-01-653-1680

Long:

8415-01-653-1681

X-Long:

8415-01-653-1683

Trousers, PGC: 04162[3][4]

X-Small:

Short:

8415-01-653-2887

Regular:

8415-01-653-2897

Small:

Short:

8415-01-653-2901

Regular:

8415-01-653-2903

Long:

8415-01-653-2904

Medium:

Short:

8415-01-653-2905

Regular:

8415-01-653-2912

Long:

8415-01-653-2913

Large:

Regular:

8415-01-653-2915

Long:

8415-01-653-2916

X-Large:

Regular:

8415-01-653-2917

Long:

8415-01-653-2919

X-Long:

8415-01-653-2920

2X-Large:

Regular:

8415-01-653-2921

Long:

8415-01-653-2922

X-Long:

8415-01-653-2923
Commercial Items
https://www.tennierindustries.com/product/layer-6-jacket/
https://www.tennierindustries.com/product/layer-6-trouser/
https://www.tennierindustries.com/product/digital-layer-6-jacket/
Similar Items
References
http://www.adsinc.com/catalog/apparel/clothing-systems/gen-iii-ecwcs-level-vi-top
http://www.goreprotectivefabrics.com/remote/Satellite/Military-Army-Outerwear/ECWCS-3G-Level-6
Notes