Polypropylene Undershirt and Drawers
The polypropylene undershirt and drawers are new ECWCS development items. The underwear layer next to the skin acts as a moisture wicking layer and serves to draw moisture away from the skin, transferring it to the outer layers.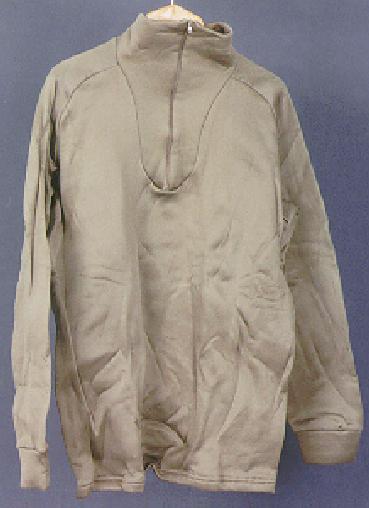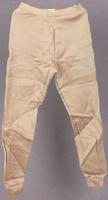 Description of Item
The undershirt has long sleeves and a turtleneck that has a center front zipper which extends to the middle of the chest area. The zipper allows for ventilation at the neck and chest area.
The drawers have elastic waistband and knitted ankle cuffs.
Materials Used
The underwear is made of a brown-colored (brown 436) knitted, brushed, multi-filament polypropylene terry-loop material conforming to MIL-C-44161.
Specifications
Nomenclature
UNDERSHIRT, COLD WEATHER, POLYPROPYLENE
DRAWERS, COLD WEATHER, POLYPROPYLENE
Logistics
Undershirt

; local TAMCN: VG065, PGC: 01942, LIN: U86178

X-Small:

8415-01-227-9547

Small:

8415-01-227-9548

[pdf]
Medium:

8415-01-227-9549

Large:

8415-01-227-9550

X-Large:

8415-01-227-9551

2X-Large:

8415-01-475-4273

3X-Large:

8415-01-475-4271
Improvement