Snow Camouflage Mitten Shells
The snow camouflge mitten shells are used as the handwear camouflage cover when worn over the trigger finger mitten shells, and arctic mitten set in snow environments.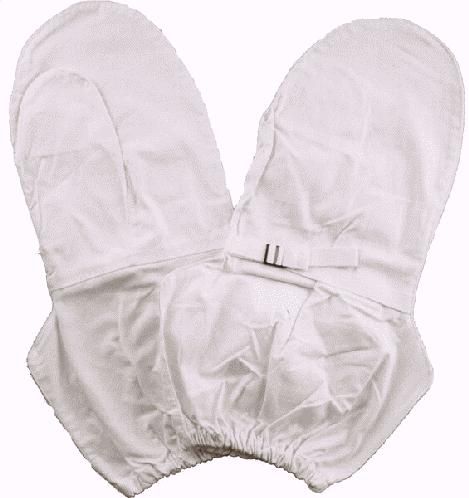 Description of Item
The mitten shell has an adjustable strap on the back across the wrist and an elastic webbing in the hem of the gauntlet portion. The mitten shell has an opening for insertion of the neck webbing loop as well as an opening for the trigger finger on the thumb side in the side seam.
Materials Used
The cloth for the mitten shells is oxford, cotton warp and nylon filling , quarpel treated, conforming to class 1 of MIL-C-3924.
Specification
Nomenclature
MITTENS, OVERWHITE, M-1950
MITTEN SHELLS, COTTON, WHITE, TWO FINGER, SNOW CAMOUFLAGE
MITTEN SHELLS, SNOW CAMOUFLAGE, COTTON, WHITE, TWO FINGER
Logistics
Notes
↑ SPE1C1-17-Q-0114 https://sam.gov/opp/701d01776c7b688cb6d54ea1ab1c4d60/view
↑ SPE1C1-22-T-0694: https://sam.gov/opp/2e174d0e795e4e118c1f7daf67d71388/view