Equipment Load Carrying Subsystem
The SPEAR Equipment Load Carrying System (ELCS) is a modular pocketing and harness system allows mission tailoring of load and system configuration. The ELCS is compatible with the SPEAR Body Armor and Backpack Subsystem, and provides optimum compatibility with individual equipment and weapons.
Component
ELCS is divided into two basic categories of components, as follows.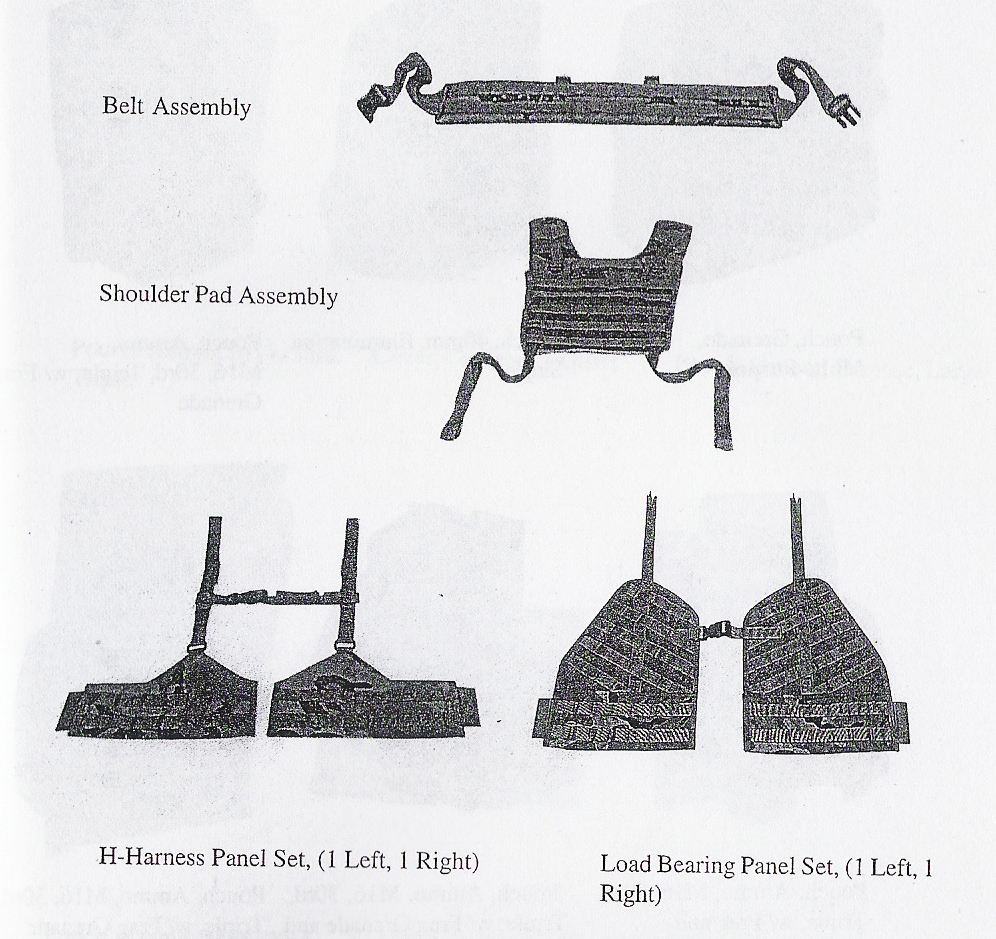 Platform Components, which pouches and accessories attach to, or which support the items which accept pouches.

Belt Assembly
Shoulder Pad Assembly
H-Harness Panel Set (1 Left, 1 Right)
Load Bearing Panel Set (1 Left, 1 Right)

Pouches/Accessories, which are designed to attach to platform components and carry a specific item or items.
The design of the ELCS is such to allow mission tailoring of not only the equipment to be carried but also the platform on which it is carries. This is accomplished by providing maximum modularity in both the pouch attachment method, and also the variety of available configurations of the platform components.
Platform Configuration
The platform components allow the system to be configured in a traditional harness system, with equipment being carried on the belt (using H-Harness Assembly), or configured in the style of load bearing vest (using Panel Set), or in a combination ot the two.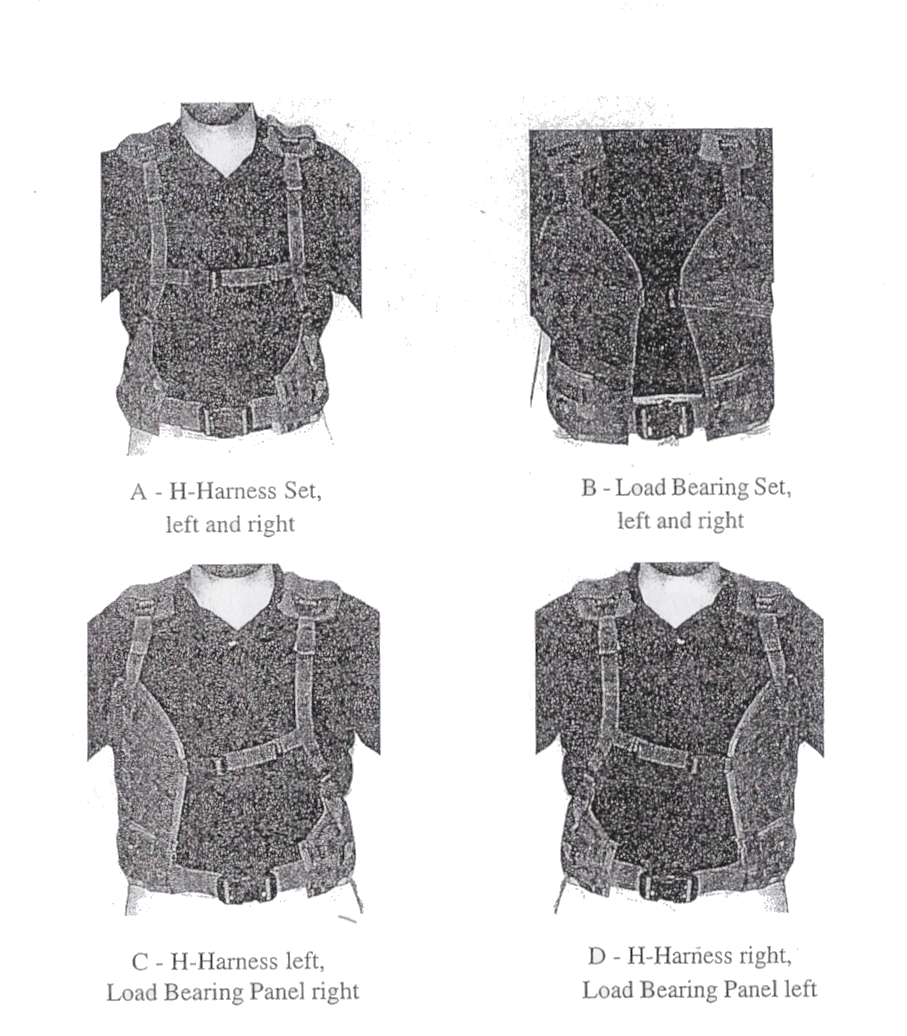 In basic terms the platform components may be configured in four ways dependant upon the mission requirements and user's preferences.
H-Harness Set, left and right
Load Bearing Panel Set, left and right
H-Harness left, Load Bearing Panel right
H-Harness right, Load Bearing Panel left
The platform components feature easy adjustments at the shoulder (height), waist (girth) and chest (girth) and are a single size system.
Pouches and Accessories
The individual pouch and accessory components are attached to the platform components utilizing the Pouch Attachment Ladder System (PALS). This system attaches items through the "inter-weaving" of webbing between the item to be attached and the platform to which it is being attached. This provides a strong, stable attachment system to ensure the attached item remains securely in place. Provision has also been made which the system to allow further customizing providing ALICE Adaptor components. These items act as an interface piece allowing items with ALICE attachment or select commercial attachment systems to be securely carried on the ELCS.
Basic Kit

Vest Panel (Left & Right)
1 set
H-Harness Assembly
1 set
Shoulder Pad Assembly
1 set
Belt with Buckle
1 ea.
Triple 30rd M4 Ammo Pouch with Frag & Multi-Purpose Grenade Pockets, Right
1 ea.
Triple 30rd M4 Ammo Pouch with Frag & Multi-Purpose Grenade Pockets, Left
1 ea.
1qt Canteen Cover
2 ea.
General Purpose Pouch
2 ea.
ALICE Adaptor
2 ea.
Double 30rd M4 Ammo Pouch
3 ea.
Single 30rd M4 Ammo Pouch
3 ea.
100rd SAW Ammo Pouch
2 ea.
First Aid/Compass Pouch
2 ea.
2qt Canteen Cover
2 ea.
Flotation Element Set (Left, Right & Rear)
1 set
Storge Organization Device
1 ea.
Accessory Kit, M203 Option
Single 40mm Illumination Round Pouch
4 ea.
Single 40mm High Explosive Round Pouch
4 ea.
Double 40mm High Explosive Round Pouch
2 ea.
Quad 40mm High Explosive Round Pouch
4 ea.
Accessory Kit, Navy Option
Triple 20rd M14 Ammo Pouch
2 ea.
Triple 30rd MP5 Ammo Pouch
2 ea.
100rd SAW Ammo Pouch
2 ea.
Optional
Multi Purpose Grenade Pouch
Triple 30rd M4 Ammo Pouch with Frag Grenade Pocket
5rd Shotgun Ammo Pouch
Smoke Grenade Pouch
200rd M249 Ammo Pouch
Single 9mm Mag Pouch
Medical Pouch
Triple 30rd M4 Ammo Pouch with Frag Grenade & Strobe Light Pockets
Instruction