Pouch Attachment Ladder System
The Pouch Attachment Ladder System is a grid of webbing that consists of rows of heavy-duty nylon stitched onto load-carrying platforms such as backpacks and vests. This system attaches items through the "inter-weaving" of webbing between the item to be attached and the platform to which it is being attached.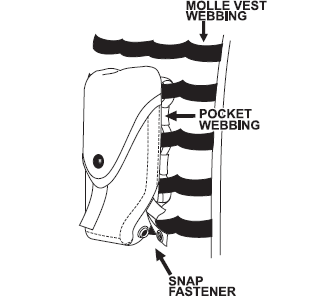 To properly attach an item, choose the desired attachment point on the platform. Line up the top of the item even with the top of the nearest horizontal 1 inch webbing that goes across the platform. Insert the attachment strap on the item down the 1.5 inch channel on the platform, then behind the 1 inch webbing on the back of the item. Continue weaving the attaching strap behind the horizontal webbing on the platform and the webbing on the back of the item until the item is secured along its entire length.
This attachment system is extremely secure and stable when used properly.
Do not simply place the attaching strap through the platform webbing without the interlocking weave. The items will not be secure if attached in this manner.
References
U.S. patent No. 5724707, "Interlock Attaching Strap System" [Google Patent]