Assault Pack
The Assault Pack of the USMC Pack system has an approximate internal volume of 1525 cubic inches in the main compartment and 300 cubic inches in the front pocket. The Main Pack and Assault Pack components are capable of carrying a maximum combined load of 120 pounds.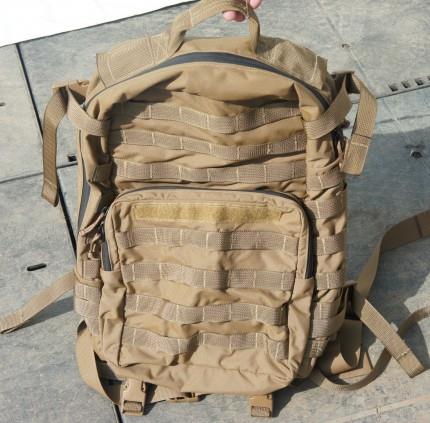 Features
The Assault Pack consists of one main compartment and a fixed front pocket. The main compartment and the front pocket is able to be closed using slide fasteners. Mesh pockets on the inside of the main compartment and front pocket keep small items secure. A lightweight, removable plastic stiffener gives the assault pack rigidity. The edges of the plastic stiffener have no sharp edges. The exterior of the assault pack has PALS webbing used to mount modular pouches. The assault pack has padded shoulder straps and a hip belt that can both be tucked away inside the assault pack when not being used. The assault pack is capable of attaching onto the top of the main pack. The assault pack has webbing straps attached to the exterior which can be used to compress smaller loads. The assault pack is capable of internally carrying a radio. The radio pouch is able to accommodate the SINCGARS radio and the ASIP radio.
The empty weight of one assault pack shall not exceed 70.0 ounces.
Specification
Logistics
Similar Item