Flame Resistant Anti-Flash Hood
The FR anti-flash hood is intended to protect its user from transient and elevated air temperatures, resulting from the use of high explosive weapons, and is used with the FR anti-flash gloves.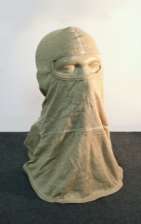 Description
The hood is shoulder length, round at the top and flared at the bottom. The circular face opening has bias binding with enclosed elastic webbing.
Material
The basic material used in the hood is a natural-colored 1x1 rib knit of 80% PFR rayon and 20% polybenzimidazole (PBI) blended yarn.
Specification
Logistics
Similar Item
Improvement
References