Waterproof Clothing Bag
The waterproof clothing bag is intended to be a carrying bag providing waterproof protection for rations, extra clothing, personal effects, and the intermediate cold and extreme cold sleeping bags. It is not constructed to withstand rough use or handling. Should the area of operation or assigned function involve rough handling and waterproofing is required, the waterproof bag should be placed inside a bag of more rugged construction such as the duffel bag to prevent the waterproof bag from damage that would result in leakage.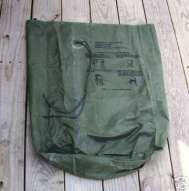 Description
The bag is fabricated of Olive Green 107 (replaced by 106) nylon duck cloth coated on one side with synthetic rubber in Olive Green 207 (replaced by black). The coated side of the fabric is on the inside of the bag, and the seams are fully vulcanized with no stitching. The bag is 30 inches in height and 50 1/2 inches in circumference.
Specification
Nomenclature
BAG, CLOTHING, WATERPROOF
Logistics
Quartermaster stock number
USMC
LIN: B15825
TAMCN: K40302F
IDN: 01710A

8465-00-261-6909

[pdf]
Similar Item
Notes
↑ http://www.usmilitariaforum.com/forums/index.php?/topic/41406-m1949-sleeping-bag/