Improved Outer Tactical Vest Generation II
The first delivery of the new Gen II Improved Outer Tactical Vest (IOTV) in Operation Enduring Freedom Camouflage Pattern (OCP) began on 16 July 2010.
Improvements over the Gen I vest include:
a totally redesigned yoke and collar,
universal side plate carriers and removable side plate pouches, and
equipment anchor points on the front and rear which interface with items such as hydration systems and the Tactical Assault Panel.
The Gen II vest is available in OCP as well as in universal camouflage pattern.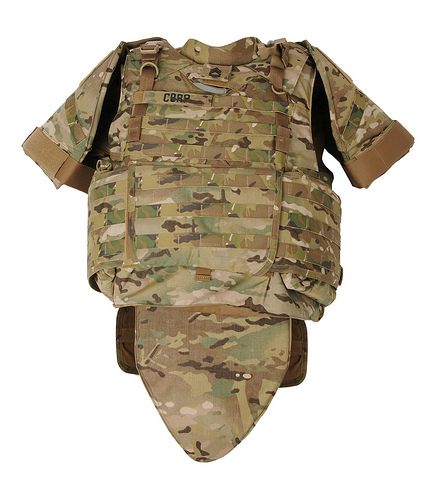 Components
one base vest assembly

a front base vest outershell assembly with a removable soft ballistic insert
a back base vest outershell assembly with a removable soft ballistic insert
two universal side plate carriers with two removable side plate pouches
a left and a right elastic internal waistband
a quick release cable assembly

ancillary equipment
Specification
Instruction
TM 10-8470-208-10. Operator Manual for Improved Outer Tactical Vest (IOTV) and Improved Outer Tactical Vest Gen II (IOTV Gen II), a Part of the Interceptor Body Armor System
TM 10-8470-208-24&P. Field and Sustainment Maintainance Manual Including Repair Parts and Special Tools List for Interceptor Body Armor System
Interceptor Body Armor IOTV Generation II User Guide [GoogleBooks]
Logistics
Gen II IOTV complete, UCP:

X-Small:

8470-01-556-1703

Small:

8470-01-556-1715

Medium:

8470-01-556-1460

Medium-Long:

8470-01-556-1491

Large:

8470-01-556-1571

Large-Long:

8470-01-556-1575

X-Large:

8470-01-556-1576

X-Large-Long:

8470-01-556-1577

XX-Large:

8470-01-556-1579

3X-Large:

8470-01-556-1581

4X-Large:

8470-01-556-1582

Gen II IOTV complete, OCP:

X-Small:

8470-01-583-9114

Small:

8470-01-583-9123

Medium:

8470-01-583-9503

Medium-Long:

8470-01-583-9506

Large:

8470-01-583-9507

Large-Long:

8470-01-583-9509

X-Large:

8470-01-583-9512

X-Large-Long:

8470-01-583-9513

XX-Large:

8470-01-583-9514

3X-Large:

8470-01-583-9515

4X-Large:

8470-01-583-9517
Improvement
Reference
http://peosoldier.armylive.dodlive.mil/2010/08/30/oefiotv/